Fans rue what might have been as Green and White Army's World Cup dream ends
Pride was mixed with despair and no small measure of bitterness as Northern Ireland fans rued what might have been after missing out on the World Cup in Russia.
A battling nil-nil draw in Basel, Switzerland, meant the Green and White Army's dream of another tournament adventure was snuffed out by the controversial penalty decision in Belfast that gifted the Swiss the only goal of the two-leg play-off.
The calamitous refereeing call still rankled as supporters emerged from St Jakob Park.
However, the overriding emotion among those sodden from a day of thunderstorms was pride.
Adam Duffy, from Lisburn, was one of the thousands of travelling fans who sang and roared their heroes on throughout the match.
"We played with hearts on our sleeves - a brilliant performance," he said.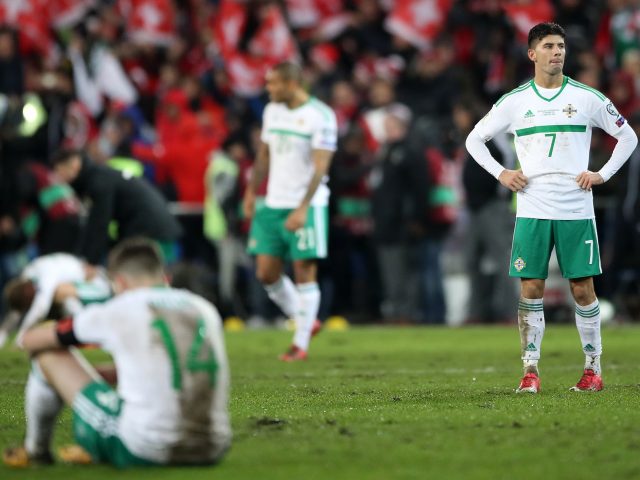 "If we had played like that in Belfast I think we would be talking about a different result.
"I thought they were magnificent, we were the better team by a long distance, by miles. I am just so proud."
Paul McAllister, from Bangor, hailed the team as "amazing".
"We really went at the game and in the last five minutes we could have scored, it was kicked off the line," he said.
"I'm proud of the players and the passion of the players. The players matched the passion of the crowd today."
Mr McAllister also had an impassioned message for Northern Ireland manager Michael O'Neill amid fears Sunday's game might have been his last in charge.
"Do not leave us Michael, take this team to the next Euros," he said.
Selina Sayers, from Belfast's Shankill Road, said one thing united the two sets of fans in Switzerland - the fact it was never a penalty in Belfast.
"It's heartbreaking for us and it's heartbreaking for the players because they gave it everything," she said. "We were robbed by a dodgy penalty at home."
The famous Green and White Army had staged its customary invasion of Basel city centre prior to the match.
Incessant rain did little to quell the voices as the faithful serenaded the locals with their full repertoire of chants.
Some appeared to have been inspired by Ricky Martin's famous lyric about taking your clothes off and dancing in rain, shedding their shirts - and at least one his trousers - to jive in the downpours.
At the final whistle, Martin Griffin, from Lisburn, summed up the thoughts of many as he reflected on coming up agonisingly short.
"They gave it 100%," he said.
"The fans were brilliant, the team was brilliant but at the end of the day we aren't going to Russia.
"The penalty cost us all from going to Russia next summer. We'll rise above it and we'll go again."
Read Full Story
Click here to comment