Amateur club makes a splash with annual Football In The River match
Football matches are normally called off if the pitch is waterlogged - except in the Cotswolds.
Two teams braved the freezing water today to take part in the annual Football In The River match in Bourton-on-the-Water, Gloucestershire.
The 30-minute game was played out between Bourton Rovers 1st XI and Bourton Rovers 2nd XI.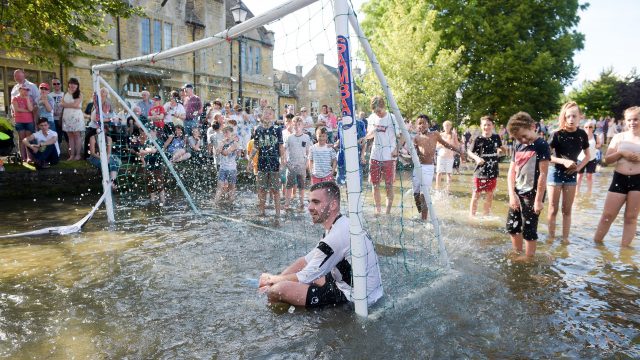 Several hundred spectators basked in the sunshine to line banks of the river to enjoy the spectacle.
The annual Bank Holiday five-a-side clash takes place in the ankle-deep water of the River Windrush.
It is not entirely clear how the idea of playing a football match in a river first arose, but the tradition has reportedly been going strong for around 100 years.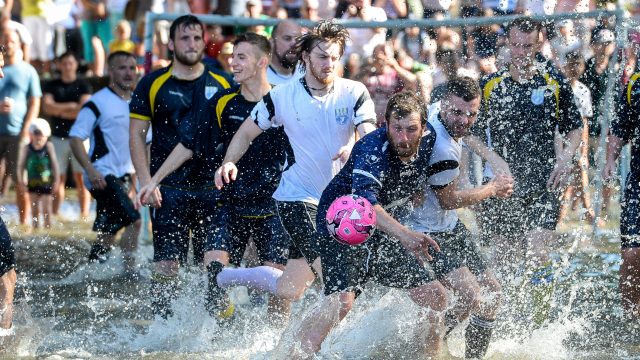 The match, which raises funds for Bourton Rovers Football Club, regularly draws large crowds - and fans are advised to wear waterproofs if they plan to stand close to the side of the "pitch".
Monday's match ended 4-3 to the 2nd XI who scored a late winning penalty after going 2-0 in the opening skirmishes.
Max Salf, 24, who was playing for the 2nd XI, said: "It was rough and cold out there. It was decent weather and a good turn for supporters.
"We've had pretty poor weather the last couple of years and it is nice to have the weather for it."
Read Full Story