PM misses 24-hour coronavirus testing target
Boris Johnson failed to meet his target of having all coronavirus tests completed within 24 hours by the end of June, newly-released data shows.
There was only a minimal increase in the proportion of tests completed within the timeframe after the Prime Minister made his pledge, statistics from the Department of Health and Social Care (DHSC) suggested on Thursday.
In making the commitment to Conservative former health secretary Jeremy Hunt on June 3, Mr Johnson said that 90% of tests were already turned around in 24 hours and that he would increase that to all but those with "insuperable problems" by the end of the month.
This rose to 91% of in-person tests being completed within the timeframe at regional test sites between June 25 and July 1, according to the DHSC data.
However, the department said the proportion of tests returned by the end of the following day increased to 97.5%.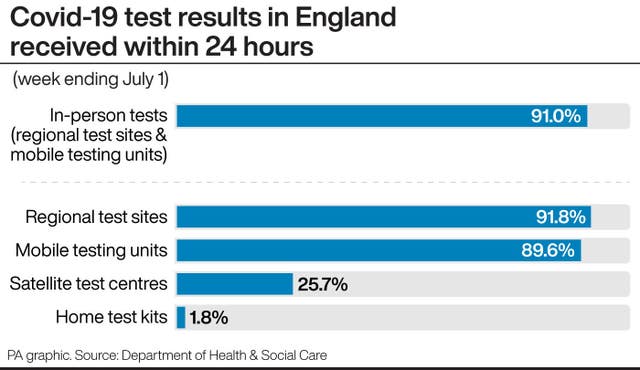 Separate data from NHS England said 97% of the health service's own labs had an average test turnaround time of under 24 hours, up from 90% last week. But officials could not immediately provide the proportion of tests completed within Mr Johnson's target.
Baroness Harding, the executive chair of the NHS test and trace programme to stem the spread of Covid-19, said they remained "committed to continually improving" the programme.
"This week we have seen test turnaround times improve further, with the majority of positive cases reached by contact tracers in under 24 hours," she added.
Mr Johnson made the commitment in response to Mr Hunt, who chairs the Commons Health and Social Care Committee, during Prime Minister's Questions amid concerns that not enough people were being tested for Covid-19.
The PM said: "We already do 90% of tests turned around within 24 hours. Of the tests conducted at the 199 testing centres, as well as the mobile centres, they're all done within 24 hours, and I can undertake to him (Mr Hunt) now to get all tests turned around within 24 hours by the end of June except for difficulties with postal tests or insuperable problems like that."
Read Full Story
Click here to comment