Police have full Government support to enforce lockdown, says Number 10
Police will have the "full support" of Government in enforcing the coronavirus lockdown, Downing Street has said.
As the country heads into the Easter bank holiday weekend, No 10 said it is at a "critical juncture" in the battle to curb the spread of the disease.
The Prime Minister's official spokesman made clear there can be no early lifting of the strict social distancing rules, urging the public to "stick with it".
The spokesman also said Boris Johnson's condition is "continuing to improve" after a third night in intensive care at St Thomas' Hospital where he is being treated for Covid-19.
The Government is due to carry out the first three-week review of the restrictions introduced last month early next week.
Foreign Secretary Dominic Raab – who is deputising for Mr Johnson – will lead a meeting on Thursday of the Cobra civil contingencies committee with the leaders of the devolved administrations to discuss how the review will be conducted.
However the Prime Minister's spokesman indicated he agrees with Scotland's First Minister Nicola Sturgeon that there is "no possibility" of any relaxation at this point.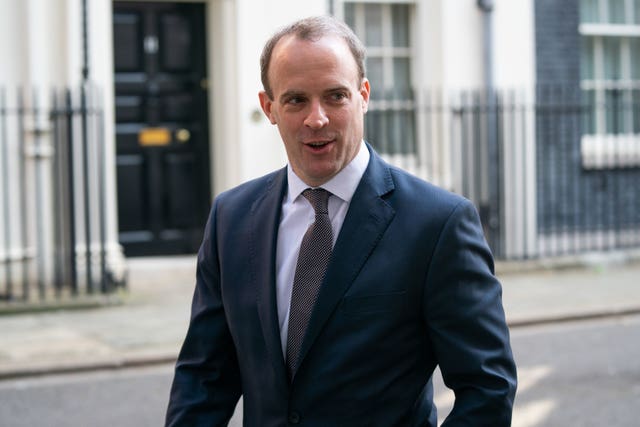 "What we absolutely need to do now is keep bearing down on the rate of transmission which will mean continuing with social distancing measures to ensure we are protecting the NHS and saving lives," the spokesman said.
"That is certainly the case as we approach the Easter bank holiday weekend.
"The public response to this has been brilliant. People have made very big sacrifices in the way they live their lives.
"You are beginning to see the impact that is having but people really do need to stick with it at what is a critical juncture."
The call came amid fears the expected fine weather over the weekend will again see crowds flocking to beaches and beauty spots, threatening to undermine the progress which ministers and officials say has been made.
The Prime Minister's official spokesman said individual police forces will use their "discretion" as to how the measures are enforced.
He said: "We have given them a job to do. They will use their own discretion about how they best do that job.
"The powers which we have given the police are there to save lives. The police have our full backing and they have the public's backing too.
"They have set out in advice to officers that they should engage, explain and finally enforce."
Read Full Story
Click here to comment