Flood defences at Ironbridge surveyed for damage amid Severn surge
A drone was used to survey a 500-metre section of the temporary flood defence in Ironbridge after residents reported a loud bang when the barrier was shunted into a kerbstone by the fast-flowing Severn.
The fence-like barrier along the historic Shropshire town's Wharfage shifted overnight and was the cause of an evacuation operation after further movement on Wednesday afternoon.
Speaking at the scene, Mark Sitton-Kent, director of operations for the Environment Agency, said the barrier had been undermined by the sheer volume of water.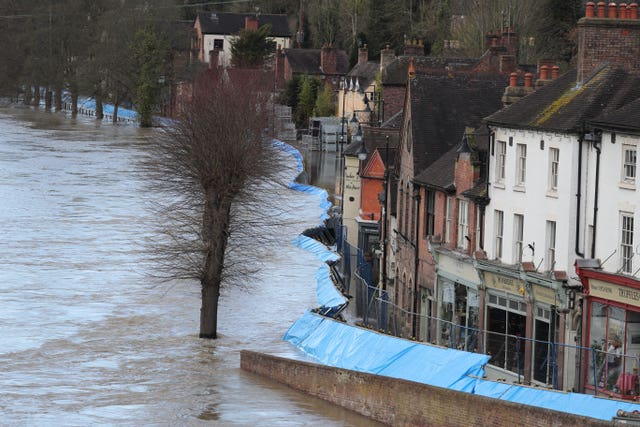 As the agency said it did not believe the barrier was under threat of an outright breach, Mr Sitton-Kent said water seeping under the barrier was thought to have allowed it to move backwards.
He told the PA news agency: "That movement of it backwards caused it to clatter against the kerbstones behind with a loud bang that I think everybody heard.
"That alarmed residents and caused a multi-agency response.
"There was a fear that there would be some collapse of the barrier, which it hasn't done and is not likely to do."
As a drone was being used to inspect the defences, Mr Sitton-Kent added: "It's not safe to go behind the barrier so we use the drone to fly in and examine the barrier.
"We have used that all the way along and we are feeding that live into the command unit.
"Over the next 24/48 hours as the river level here drops, we will move in and do some work to shore up the area and make sure it stays put.
"We are also pumping out the water that is seeping under and coming through."
Read Full Story