Emergency laws needed to keep terrorists behind bars for longer, MPs told
Emergency legislation is needed to make sure terrorists are not released automatically from prison half way through their sentence, the Justice Secretary has said.
Speaking in the wake of the latest terror attack in Streatham, Robert Buckland also said the Parole Board should review cases before such offenders are freed.
Sudesh Amman was shot dead by police after grabbing a knife from a shop and attacking two bystanders in Streatham High Road, south London, on Sunday. A third person was injured by flying glass during the gunfire.
Mr Buckland told the House of Commons on Monday afternoon: "Yesterday's appalling incident makes the case plainly for immediate action.
"We cannot have the situation, as we saw tragically in yesterday's case, where an offender – a known risk to innocent members of the public – is released early by automatic process of law without any oversight by the Parole Board.
"We will be doing everything we can to protect the public, that is our primary duty.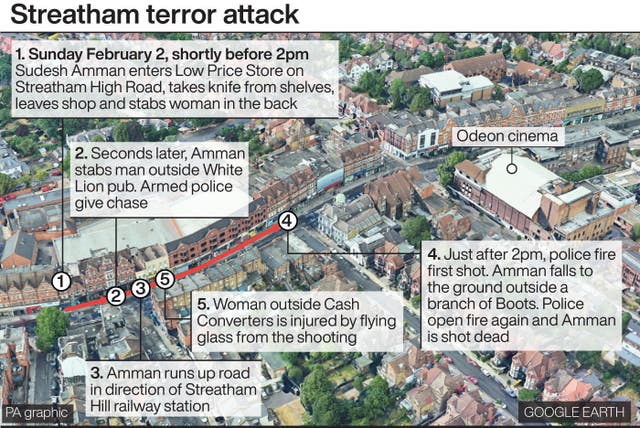 "We will, therefore, introduce emergency legislation to ensure an end to terrorist offenders getting released automatically having served half of their sentence with no check or review."
The 20-year-old, who was jailed for possessing and distributing terrorist documents in December 2018, was freed from prison less than a fortnight ago and had been staying at a bail hostel in nearby Leigham Court Road.
Read Full Story