FTSE 100 pushes higher as markets rally on cooling global tensions
The global markets rallied again on Thursday as tensions between the US and Iran continued to soften.
Trading sentiment was increasingly bullish over the future for multinational stock after President Trump clarified on Wednesday evening that he wanted to avoid a full-on conflict.
London's top flight closed 23.19 points higher at 7,598.12 at the end of trading on Thursday.
Connor Campbell, financial analyst at spreadex, said: "The market-wide gains come after the USA and Iran appeared to pull back from the brink, the latter's missile attack on the former's bases in Iraq seemingly enough retaliation for the assassination of Qassem Suleimani.
"It is, of course, far too early to say that is definitely the case – for now, however, the reduction in sabre-rattling from Donald Trump is enough for investors."
The European markets also pushed higher as a result of subdued global political tensions
The German Dax increased by 0.71% while the French Cac moved 0.19% higher.
Across the Atlantic, the Dow Jones was also in high spirits, shooting higher as traders also kept an eye open for Friday's US non-farm jobs report.
The price of oil also continued to tumble, making a slightly smaller loss than on Wednesday. Prices had surged higher at the start of the week when the political climate was much more hostile.
The price of a barrel of Brent crude oil fell 0.55% to 65.36 US dollars.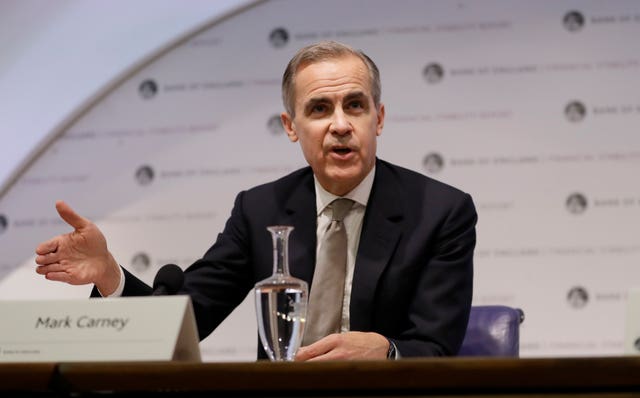 Meanwhile, departing Bank of England governor Mark Carney pressed the value of the pound lower after he suggested an interest rate cut could be take place.
Fiona Cincotta, financial analyst at City Index, said: "Sterling tumbled in early trade and failed to regain composure after BoE's Mark Carney hinted that more stimulus could be on the cards."
The value of the pound decreased 0.24% versus the US dollar at 1.306 and fell 0.28% against the euro at 1.176.
In company news, retailers dominated the agenda as both Tesco and Marks & Spencer posted modest revenue rises over the Christmas period.
Tesco closed marginally higher after it eked out a 0.1% rise in UK sales over Christmas trading despite "subdued" consumer spending.
The UK's biggest grocery chain said it outperformed in a "challenging" market, delivering its fifth Christmas in a row of sales growth. Shares closed 2.3p higher at 253.3p.
Meanwhile, Marks & Spencer dived in value after the high street stalwart saw clothing and home sales tumble during the third quarter.
UK revenue grew 0.2% on a like-for-like basis as it was boosted by a stronger food business, but investors remained unimpressed. Shares slid 24.2p to 194.4p.
Elsewhere, British Airways owner International Airlines Group saw shares rise despite announcing that long-serving chief executive Willie Walsh will retire after a 15-year career with the group.
IAG said Mr Walsh will be succeeded by Iberia chief executive Luis Gallego. Shares in IAG were 16.2p higher at the close of play.
The biggest risers on the FTSE 100 were NMC Health, up 82.5p at 1,340p, Vodafone, up 4.46p at 151.96p, Rolls-Royce, up 19.8p at 685.4p, and LSE, up 224p at 7,766p.
The biggest fallers on the index were Ocado, down 57.5p at 1,276.5p, Kingfisher, down 6.5p at 217.5p, BHP Group, down 36.8p at 1,771,2p, and British Land, down 10.2p at 592.6p.
Read Full Story