Shocking video shows Trump supporter pushed to the ground at London protest
This is the moment a pensioner fan of President Donald Trump was violently pushed to the ground during an anti-Trump protest in London's Parliament Square.
Protests against Mr Trump's state visit have been held in central London this week with demonstrators flying the giant Trump baby balloon and Labour leader Jeremy Corbyn addressing the protesters.
The footage shows violent yobs forcing the man to the ground while shouting 'Donald Trump not welcome here' at the protest held on Tuesday June 4.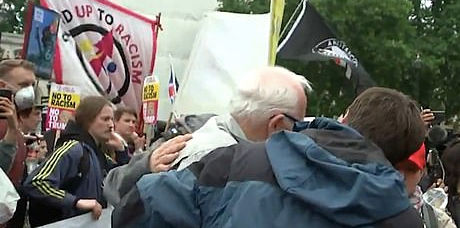 After the elderly man is shoved to the floor, other protesters helped him to his feet.
One person can be heard saying to the people who pushed him to the floor: "When you act like that, you act like Donald Trump so don't."
Yet another video appearing to show a Trump supporter being attacked and thrown to the ground in London today. This time an elderly man. If you claim to oppose hate and then do this, take a long hard look in the mirror. #TrumpUKVisit#TrumpProtestpic.twitter.com/Ljzj46UCfh

— Jamie (@okayjamie) June 4, 2019
Another Trump supporter was attacked with a milkshake by a group chanting 'Nazi scum' at the same protest.
NHS worker Siobhan Prigent has apologised on Twitter for screaming 'Nazi scum' at a President Trump supporter who was covered in milkshake at a protest earlier this week.
A video shows Ms Prigent and other protester shouting at the man before he is hit with a milkshake.
When questioned about the protests against him at a press conference with Theresa May yesterday, Mr Trump said he had hardly seen any and they were just another example of "fake news".
The state visit has proved divisive in the UK with Labour leader Jeremy Corbyn refusing to attend the state banquet.
Many protesters held signs saying: "Stop Racism Stop Trump", "Climate change is really, your tan is not" or "Make America Great Again. Impeach Me."
Although organisers hoped that as many as 250,000 people would attend the demonstration, it is thought that numbers were actually far fewer.
- This article first appeared on Yahoo
Read Full Story