Outrage at 25 men who voted for near-total ban on abortion in Alabama
Pro-choice campaigners have reacted with fury after 25 male Republicans in Alabama's senate passed a near-total ban on abortion in the state.
The Republican-dominated Alabama Senate voted 25-6 for the bill that would make performing an abortion at any stage of pregnancy a felony punishable by up to 99 years or life in prison.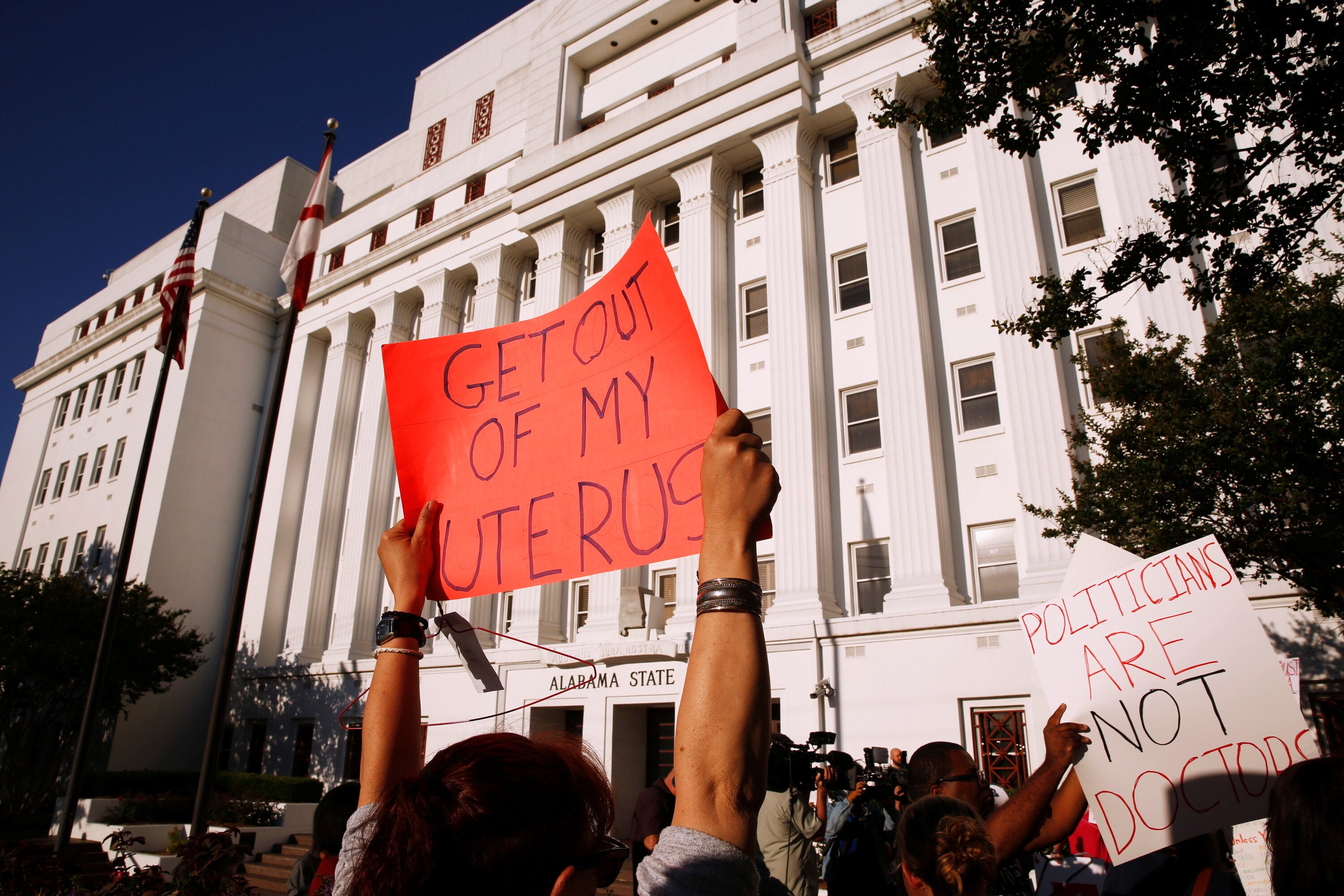 The only exception to the law would be when the woman's health is at serious risk.
Democratic Senator Bobby Singleton reacted angrily at the vote - and at the gender of those who passed the bill.
He fumed: "You've got 27 men over on the other side ready to tell women what they can do with their bodies."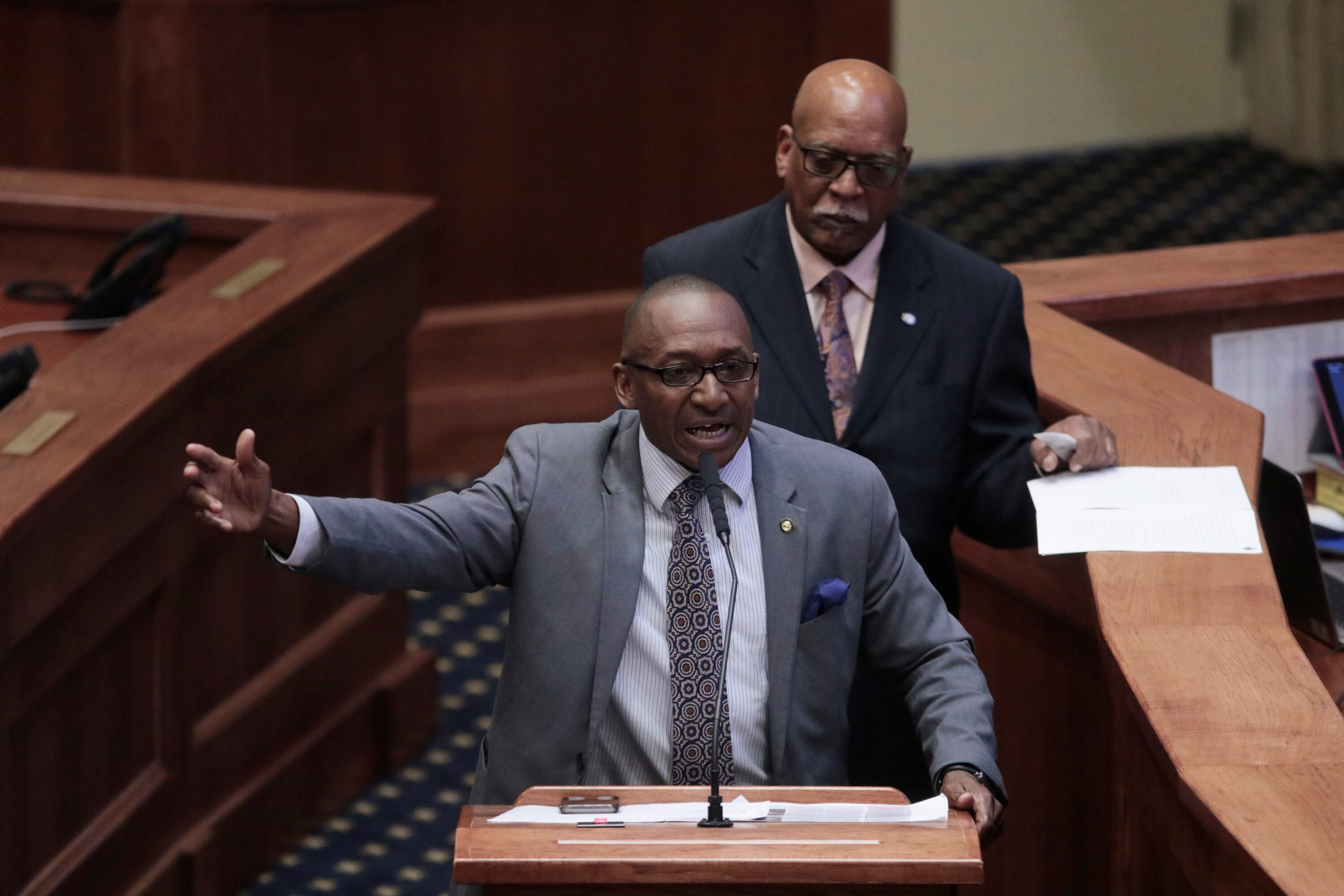 Senators also rejected an attempt to add an exception for rape and incest. The amendment was voted down 21-11, with four Republicans joining Democrats in the seeking the amendment.
Senator Singleton added: "You don't care anything about babies having babies in this state, being raped and incest.
"You just aborted the state of Alabama with your rhetoric with this bill."
Others on Twitter - including Democratic Presidential hopefuls Bernie Sanders and Elizabeth Warren - reacted angrily at the group of men deciding on what women are allowed to do with their own bodies.
The shameful faces of the 22 Alabama Senators who voted for a
near total abortion ban with no exceptions for rape or incest.
STOP THE REPUBLICAN WAR ON WOMEN. pic.twitter.com/AFLjLySlOD

— JohnPaul (@JPJaval) May 15, 2019
What Alabama is doing is blatantly unconstitutional and disrespects the fundamental right a woman has to make decisions about her own body.

I say to Gov. Ivey: Veto this cruel bill. Stop the attack on women's rights. https://t.co/yByOIyJ6XL

— Bernie Sanders (@BernieSanders) May 15, 2019
This is a law aimed at controlling women; keeping them impoverished, domesticated and oppressed. Women can never be equal as long as they do not have control over their bodies. This is an outrage. https://t.co/CWiFopA3YW

— Sophie Walker (@SophieRunning) May 15, 2019
This ban is dangerous and exceptionally cruel—and the bill's authors want to use it to overturn Roe v. Wade. I've lived in that America and let me tell you: We are not going back—not now, not ever. We will fight this. And we will win. https://t.co/WNlr7Ys73q

— Elizabeth Warren (@ewarren) May 15, 2019
There are 4 million people in Alabama, and 25 MEN had the power to make a decision for all 4 million. In middle school, I learned this is what you call an oligarchy. #RoeVWade

— Phinesse tha Finesser (@PhinesseNFerb) May 15, 2019
Emboldened by conservative justices who have joined the Supreme Court, abortion opponents in several states are seeking to challenge abortion access.
Kentucky, Mississippi, Ohio and Georgia have approved bans on abortion once a foetal heartbeat is detected, which can occur in about the sixth week of pregnancy.
The Alabama bill goes further by seeking to outlaw abortion outright.
"Our bill says that baby in the womb is a person," Republican Representative Terri Collins, the bill's sponsor, said on Monday.
There would be no punishment for the woman receiving the abortion, only for the abortion provider.
Supporters said the bill is intentionally designed to conflict with the US Supreme Court's landmark 1973 Roe v Wade decision legalising abortion nationally, because they hope to spark a court case that might prompt the justices to revisit abortion rights.
Democrats, who hold just eight seats in the 35-member Senate, criticised the proposed abortion ban as a mixture of political grandstanding, an attempt to control women and a waste of taxpayer dollars.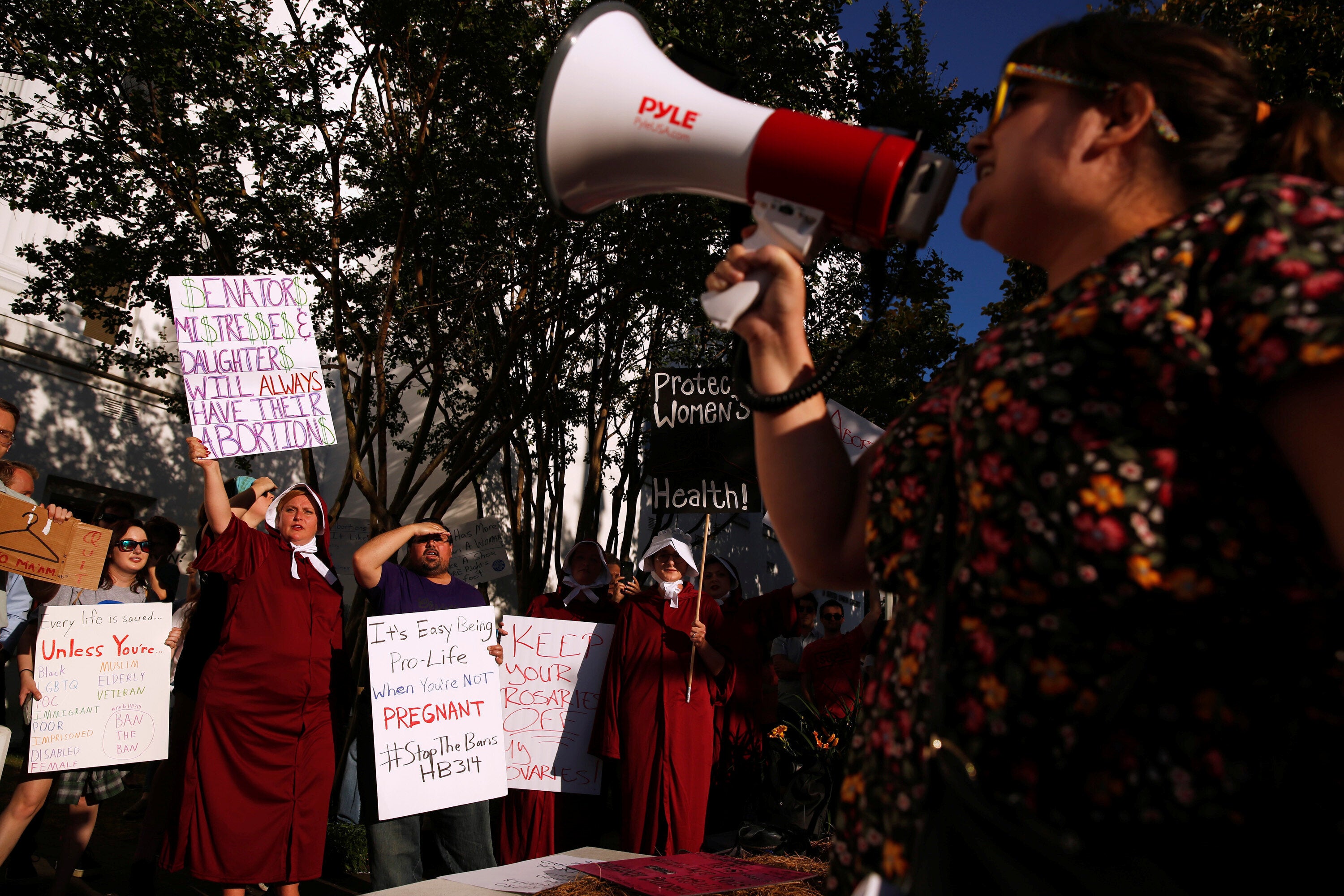 "You don't have to provide for that child. You don't have to do anything for that child, yet you want to make that decision for that woman," Democratic Senator Vivian Davis Figures said.
"It should be that woman's choice."
Randall Marshall, executive director of the American Civil Liberties Union of Alabama, said a complaint is being drafted to challenge the ban.
Yahoo News UK has contacted pro-choice organisation Marie Stopes International for comment.
- This article first appeared on Yahoo
Read more from Yahoo News UK:
Drivers who leave their engines running could be hit with instant fines
UK could have seven times more paedophiles than previously estimated
Girl born on bus 12 minutes after arriving at service station
Read Full Story