May in flight to Strasbourg for last-ditch bid to secure changes to Brexit deal
Theresa May has set off to Strasbourg for last-minute Brexit talks with European Commission president Jean-Claude Juncker on the eve of a crucial vote in the House of Commons.
The last-ditch bid to make progress in talks, which Downing Street admitted overnight were "deadlocked", comes amid predictions that the Prime Minister is headed for a second humiliating defeat on her Withdrawal Agreement unless she can secure legally-binding changes to its controversial backstop.
Sources in London played down suggestions that Mrs May's departure for France was an indication that a deal is ready for signature.
But it is thought that the PM believes that there is a basis for further face-to-face discussions as part of the talks.
Mrs May is likely to arrive in Strasbourg in mid-evening, and a statement to the Commons by Brexit Secretary Stephen Barclay has been put back to around 10pm.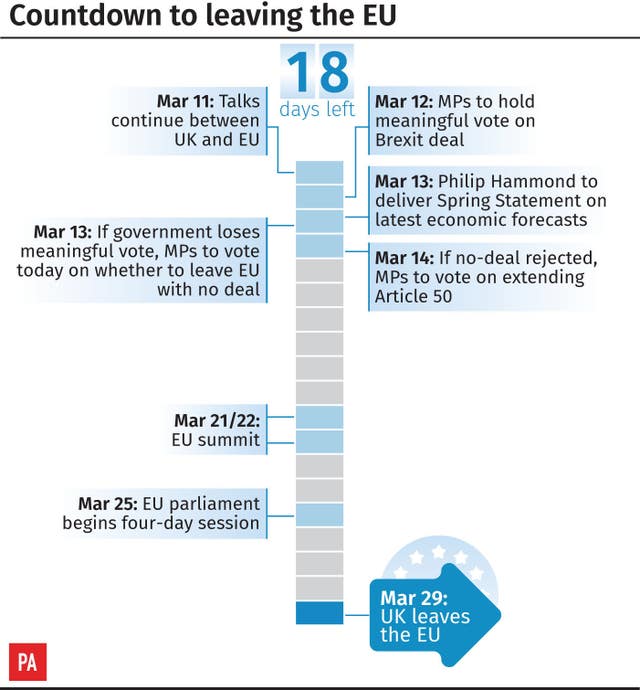 Time is running out for any new assurances or clarifications to the deal which was resoundingly rejected by a 230-vote majority by MPs in January.
The Government must table its motion for Tuesday's debate by the end of the day, alongside the publication of any relevant documents.
MPs have also been promised that they will be shown any updated legal advice from Attorney General Geoffrey Cox before the debate begins.
Read Full Story