Turkey off the Christmas menu for conservationist
Turkey is off the Christmas menu for a retired businessman who prefers to look after the big birds in his garden.
Brain Moodie, 72, started keeping turkeys in his back garden in Camelon, near Falkirk, eight years ago in a bid to help conserve rare breeds and now looks after 30 birds.
His group, which include rare buff and Crollwitzer species, are "the ultimate free range turkeys" who even know how to cross the road as they are taken for a stroll around the town each day.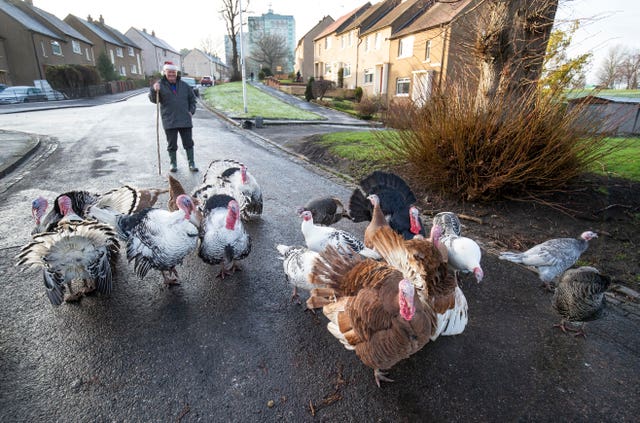 Mr Moodie wants to encourage more people to take in the birds as pets and not just view turkey as a Christmas meal.
He said: "Since I retired from business they've made me feel totally occupied. I've concentrated on the birds and I've had great comfort from them since I started looking after them.
"Like any animals, it's about getting them trained from an early age. Once you train these birds to the crook, they obey you and I would say they're very friendly towards people because I've spoiled them and that reflects on the way they interact with people.
"If anyone comes round they want to find out what's going on and be part of the show."
He added: "Turkey's off the menu in our house at Christmas and it's not a great difficulty for me that because I enjoy my steak pie. I would feel a bit guilty eating turkey.
"While most people are preparing to have turkey at Christmas I would say there's another avenue to enjoy them other than eating them, and that's by keeping and caring for the rare breeds."
Read Full Story