Thames Water confirms talks with Government amid Brexit threat to clean water
Thames Water has warned of a no-deal Brexit threat to clean water and confirmed talks with the Government as the sector seeks to safeguard supplies after the UK leaves the European Union.
Chief executive Steve Robertson told the Press Association the group is "working closely" with the department for Environment, Food and Rural Affairs (Defra) as the industry scrambles to ensure it has enough supplies of chemicals to treat drinking water.
He said the ability to stockpile many of the chemicals was limited, as many need to be refrigerated.
He stressed there would not be a water shortage, but said the industry was having to take action and might need to call on the Government for back-up support on certain supplies.
Mr Robertson said: "There's no need for panic, but we do need to recognise there's a threat from the point of view of supply of chemicals.
"It may be that we need some support from the Government."
He added that the industry is putting in place no-deal contingency plans by maximising storage of chemicals where possible, with firms also planning to "mutually support" each other.
It comes after reports suggested that Environment Secretary Michael Gove opted to back Theresa May's Brexit deal amid fears over clean water supplies in a no-deal scenario, although he has since given assurances that water will be safe.
Thames Water's comments came after it reported half-year results which showed that extreme weather caused a surge in leaks and water supply outages.
Interim pre-tax profits crashed 69% to £67.7 million in the six months to September 30 from £218.5 million a year ago after it brought forward regulatory penalties.
The water giant said around 75,000 customers saw their supply hit during the freezing cold weather in March as pipes burst, while the prolonged hot summer weather compounded woes.
The group said the extreme weather had an "enduring" impact on its ability to meet leakage targets, while it revealed that the supply problems sent customer complaints soaring to 11,083 in the half-year to September 30, from 8,242 a year earlier.
Thames Water was ordered to pay £55 million earlier this year as a penalty for missing the commitment it made to customers to cut leaks and agreed to a further £65 million in customer compensation.
Underlying half-year pre-tax profits, excluding the prior year's boost from the sale of its non-household retail business to Castle Water, tumbled 48% to £67.7 million.
The group added that profits were also affected by a move to hire around 600 more staff to help with leaks.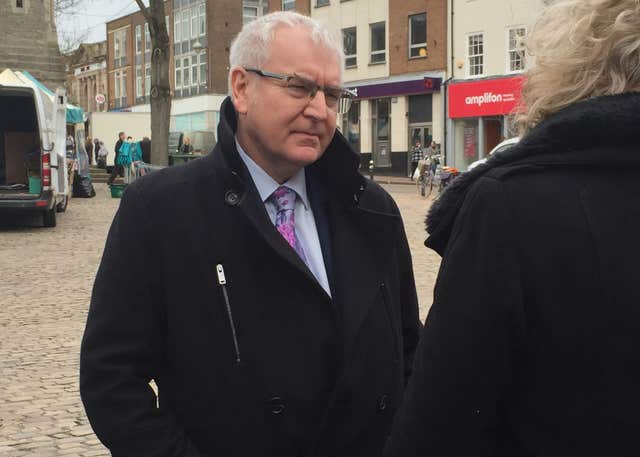 Mr Robertson said: "With the Beast from the East and prolonged heatwave, 2018 has brought the threat and volatility of climate change into sharp focus."
"We are acutely aware of the challenges we face during the next 18 months and we're working hard to get back on track," he added.
The group said its supply issues were sparked during the heatwave when it was forced to pump 17% more water into the network, which increased the pressure in its pipes and caused more bursts.
It said the group was still suffering the effects of the heatwave, with visible leaks springing up, highlighting the "lasting impact of extreme weather on our network".
Earlier this year, Mr Robertson agreed to forgo bonuses for the next two years after the company forked out £120 million in compensation to customers and penalties for missing targets to cut leaks.
But under overhauled pay plans unveiled in the group's annual report, Thames Water revealed it will pay out a maximum £3.75 million to Mr Robertson in 2020 if all targets on leaks and pollution are met.
Read Full Story