In Pictures: The Queen with George HW Bush
As the Queen sent a message of condolence to the people of the America following the death of former president George HW Bush, here's a look at their relationship in pictures.
George Bush Snr had lunch with the Queen at Buckingham Palace in 1989, and they appeared relaxed in each other's company.
They were pictured standing side-by-side smiling in the palace Picture Gallery, and were also joined by the Duke of Edinburgh and Barbara Bush.
The Queen also visited him in the US in 1991 – the trip that led to "Podiumgate" – when all that could be seen of the Queen above the lectern when she was delivering an address on the White House lawn was her hat.
In her message to US President Donald Trump and the American people, the monarch described Mr Bush as "a great friend and ally of the United Kingdom" and a patriot who served his country with honour and distinction.
She recalled her trip to see him in America, saying: Prince Philip and I remember our days in Texas in 1991 with great fondness."
The royal couple travelled to other states during their busy 12-day tour, and also enjoyed a state dinner with Mr Bush, and met baseball great Cal Ripken Jr.
In Texas, the Queen visited Dallas, Houston, and made a public address at the Capitol in Austin.
She was described as looking like a "daffodil in spring" by one ambassador, and was also given a half-dozen pairs of cowboy boots for her grandchildren.
When the monarch visited George Bush Snr's son George W Bush in 2007 Washington during his presidential term, she was reunited with the former American leader at a return dinner she hosted at the ambassador's residence.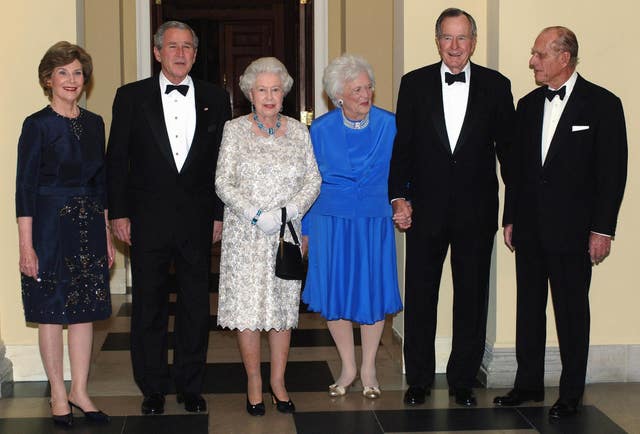 Mr Bush Snr also met the Prince of Wales, and they were pictured together at the rededication ceremony of the American Air Museum of Great Britain at the Imperial War Museum Duxford, Cambridgeshire in 2002