Two arrested over weapons haul found after boiler house blaze
Two people have been arrested in connection with a dissident republican weapons haul discovered in a residential boiler house that caught fire in Belfast.
Two AK47 assault rifles, two sawn-off shotguns, a high-powered rifle with a silencer fitted, three pipe bombs and more than 100 assorted rounds of ammunition were stored in the building that went on fire in Rodney Drive, west Belfast, earlier this month.
Police believe the weapons belonged to the so-called New IRA and may have been stored in the outhouse without the knowledge of the resident of the home.
They suspect some were used in previous murder bids on police.
A 31-year-old man and 33-year-old woman were arrested under the Terrorism Act in Ballymurphy on Monday.
Two properties in the area were also searched and a number of items were seized and will be sent for forensic examination, including a small quantity of suspected Class B drugs.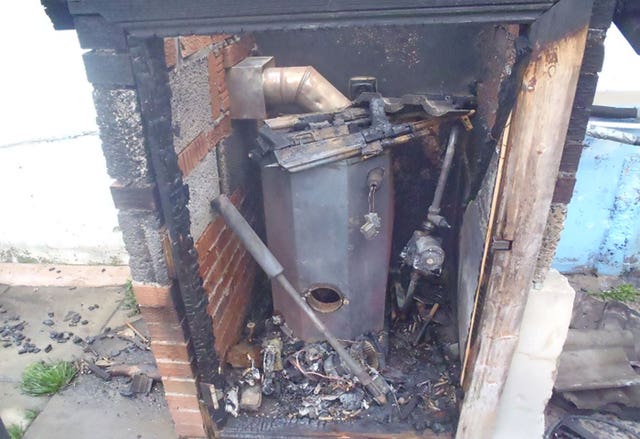 Police Service of Northern Ireland Detective Chief Inspector Stuart Griffin said: "These weapons and ammunition were stored in a reckless manner, on top of a hot boiler in a residential area.
"Some of the rounds exploded during a fire, which caused significant danger to local residents who were in the area and highlighted once again that these terrorists really do not care about the safety of anyone living in their community.
"We will continue to disrupt the activities of those who wish to terrorise the community with their twisted ideologies so that people can live without fear."
The guns, bombs and bullets were stored on top of an operating domestic boiler and officers believe the blaze may have been triggered when one ignited due to the heat.
Police believe the AK47s may have been used in two separate dissident attacks on police – one in Rossnareen Avenue, west Belfast, in November 2015 and the other on a garage forecourt in Crumlin Road in north Belfast in January 2017.
In the first attack, a police car patrolling Rossnareen Avenue was riddled with up to eight bullets.
Armoured plating and bulletproof glass was credited with saving the lives of the two officers inside the vehicle when they were ambushed.
In the second attack, a policeman survived despite being shot three times in the arm when gunmen opened fire on him as he got out of a parked police car at the Crumlin Road garage.
Officers said it was miracle no members of the public were also shot as bullets flew across the busy petrol station forecourt.
Read Full Story