Train firms aiming for HS2 contract pledge to build on Italian success
Two train manufacturers targeting a contract for the HS2 line have pledged to build on their success in Italy.
Bombardier Transportation and Hitachi Rail are developing a joint bid to win the £2.75 billion contract to build 54 trains for the first phase of HS2.
The firms collaborated to produce the fastest European train – Italy's Frecciarossa 1000 – and have declared their determination to take "high-speed innovation to the next level".
Their Italian train, known as the Red Arrow, was designed to achieve speeds of up to 249mph, although track limitations means it reaches 186mph.
HS2 trains will operate at up to 225mph.
When the Frecciarossa 1000 came into service in 2015 it had many groundbreaking features, such as increased accessibility for wheelchair users, unlimited free WiFi and three levels of air conditioning.
It was designed to offer flexible interior layouts, with the Italian state railway opting for four passenger classes consisting of Standard, Premium, Business and Executive.
The latter features a boardroom equipped with a meeting table and 32in monitor to display presentations.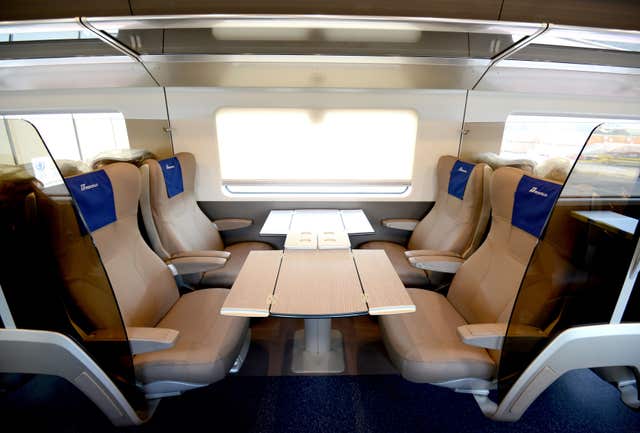 In an interview with the Press Association at Hitachi's factory in Pistoia, Italy, the firm's head of very high speed Marco Sacchi said there is a "really wide difference" compared with rolling stock on the existing UK network.
Some services in northern England still use Pacer trains, which many passengers complain are slow, noisy and have poor suspension.
Train operator Northern has pledged to replace all Pacers – which were built by mounting an old bus frame on to train wheels – by the end of next year.
If the Hitachi-Bombardier HS2 bid is successful the companies will deliver a "very high-end solution" which will be "the next evolution" of the Red Arrow, Mr Sacchi said.
Bombardier UK managing director Phil Hufton described the firms' record in high-speed rail projects as "unrivalled".
He added: "Our bid team is now taking high-speed innovation to the next level by combining engineering excellence with the capacity to deliver cutting-edge passenger benefits."
Phase 1 of HS2 will open between London and Birmingham in December 2026 before the railway is extended to Crewe, Manchester and Leeds.
HS2 trains will also serve locations on the existing mainline network, such as Liverpool, Newcastle, Edinburgh and Glasgow.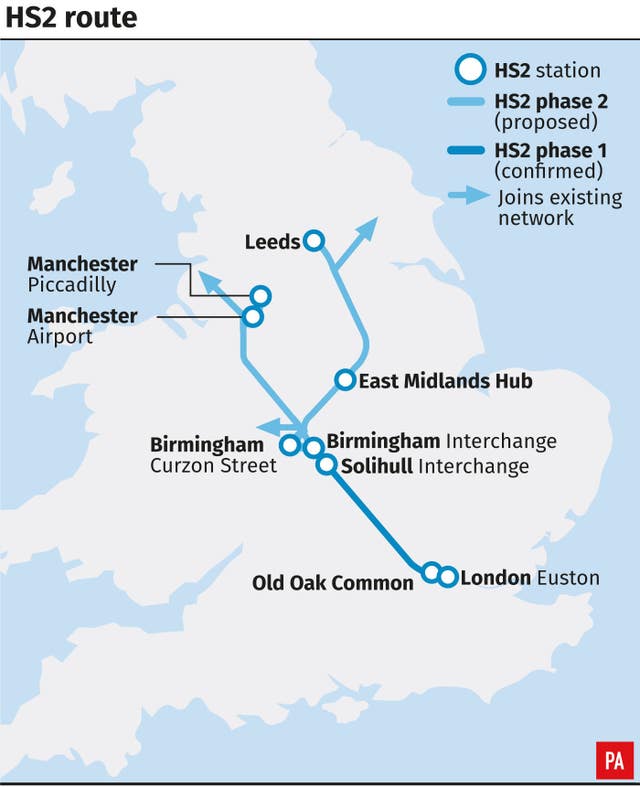 The growth of high-speed rail in Italy means many people travel between cities such as Milan, Venice, Rome and Naples by train rather than plane or car.
"It's like Italy is much shorter," Mr Sacchi said.
"In the past, most of the connections were made by car because trains took too much time. Now (the train) is the only way we're moving.
Manufacturing would be expected to be split between Bombardier's plant in Derby and Hitachi's factory in Newton Aycliffe, County Durham.
Four other bidders have also been shortlisted: Alstom Transport, Patentes Talgo, Siemens and CAF.
The contract is expected to be awarded in March 2020.