Scotland should have own Environment Act after Brexit, say conservationists
Conservation groups say Scotland must pass its own environment laws if nature and wildlife are to be protected after Brexit.
A coalition of 35 organisations is calling for Scotland's own Environment Act to follow the UK's withdrawal from the EU.
Scottish Environment LINK, whose members include the Marine Conservation Society, National Trust for Scotland and RSPB Scotland, is launching a campaign, Fight for Scotland's Nature, to rally support.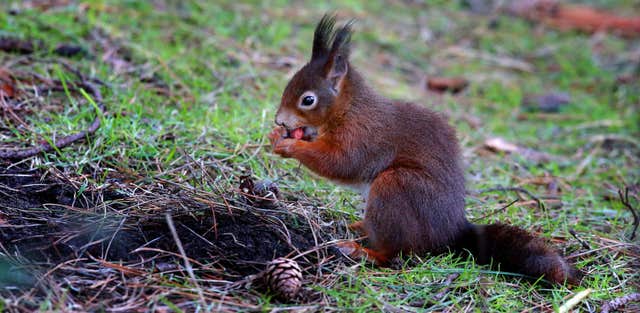 The group said: "Eighty per cent of all Scotland's environmental laws come from the EU.
"If and when Brexit happens, Scotland (along with the rest of the UK) will lose the unrivalled support and enforcement roles of the European Commission, European Court of Justice and other EU bodies.
"Alarmingly, with only a few months to go, there is uncertainty about what will replace this.
"This is why Scottish Environment LINK is pushing the Scottish Government to fight for Scotland's nature and commit to a world class environment act before it's too late."
Campaigners said Scotland benefited from the EU's LIFE Nature fund, supporting conservation projects worth more than 25 million euros to date.
They said inadequate support and funding presented a risk to safeguarding nature in the future.
Joyce McMillan, president of Scottish Environment LINK, said: "Now more than ever, we need a Scottish Environment Act that builds on existing Scottish Government commitments to retain EU protections.
"This would send a clear message to UK and EU partners as well as the rest of the world that we are serious about protecting and enhancing our natural environment."
A Scottish Government spokesman said: "We are committed to protecting and enhancing Scotland's environment and playing our full role in addressing global environmental challenges.
"That's why we've been clear that we'll, at the very least, maintain or even exceed EU environmental standards and carry forward the four EU environmental principles post-Brexit.
"We will be consulting shortly on future environmental principles and governance, as part of our on-going work to develop our approach to environmental policy in Scotland, after the UK leaves the EU, and look forward to SE LINK's contribution to that debate."
Read Full Story
Click here to comment