Scotland Yard Christmas tree appeal launched
Metropolitan Police Commissioner Cressida Dick has switched on the Christmas tree lights outside New Scotland Yard.
The early festivities marked the launch of the force's annual appeal for Londoners to give gifts to less fortunate children across the capital.
Youngsters from across the city's 32 boroughs, who had won a competition to design a poster to promote the appeal, attended along with family members.
Overall winner Anna-Rose Donegan, 10, from Barnet, north London, joined Ms Dick in switching on the lights on Wednesday evening.
Her "Merry Copsmas" poster design, showing a sleigh being pulled by a police car, was chosen from a total of almost 4,000 entries.
Londoners are being urged to give a gift by taking a tagged ribbon – which include messages to buy presents for a specific child – from the tree outside New Scotland Yard or others outside police stations or in public areas in all London boroughs.
People can also donate online to this year's charity, Embrace Child Victims of Crime (CvoC), which focuses on helping children and families affected by crime.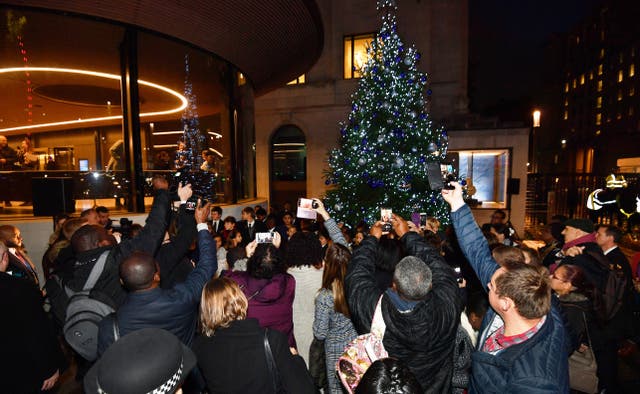 Ms Dick said: "This is the second year that I have had the privilege of launching this amazing charity appeal which has been an annual event since 2012.
"Christmas is a time for giving and who more worthy of receiving that generosity than children in care, in hospital, or otherwise in need.
"Our Christmas Tree Appeal grows and grows each year showing the generosity and goodwill of officers, staff and fellow Londoners.
"My deepest thanks go to all those who donate and to all the children who have taken part in the poster competition."
Last year, £18,700 was raised while Londoners gave more than 19,000 Christmas presents.
Read Full Story