Cathedral art to honour Irish First World War victims
An art installation containing thousands of messages in memory of those killed in conflict is set to go on display at Dublin's St Patrick's Cathedral to mark the centenary of the end of the First World War.
Some 36,000 handwritten messages, written on leaf-shaped pieces of paper, feature in the artwork, which will hang from the nave of the 800-year-old Irish cathedral throughout the month of November to commemorate Armistice Day.
Each leaf symbolises one Irish man or woman who died in the First World War.
Lead artist Ciara Ni Cheallachain said it had been a long road and she was delighted to see it all in situ.
"36,000 Irish people didn't come home from the first World War so this was an attempt to show that number in a way that makes sense to people," she said.
She added that the aim of the display was to show the scale of the impact of the war on Ireland and also acknowledge each person who died.
"It is quite an emotional thing when you begin to think about what it represents," Ms Ni Cheallachain said.
"It looks beautiful but it also goes much deeper than that as well when people realise the enormity of what each leaf means and what it represents."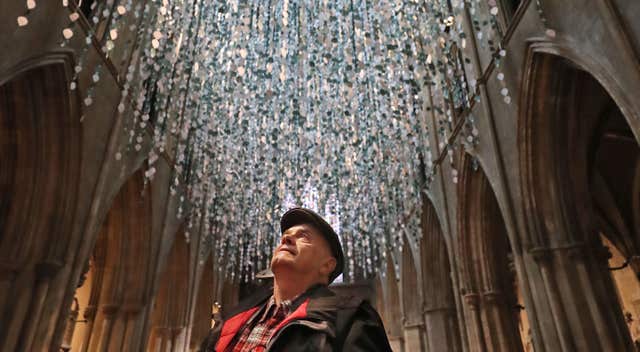 The display is the culmination of a project that began in 2014 to mark the 100th anniversary of the start of the war.
Visitors to the historic cathedral over the past four years were asked to write a message to a loved one who had been killed in conflict and hang it on the cathedral's Tree of Remembrance.
More than 220,000 messages in numerous different languages were penned by people from all over the world.
While there were thousands of messages for those who died in past wars, many of the messages were written by people who had lost loved ones in modern-day conflicts.
The installation will be on view until December 1.
Read Full Story