Bank set to hold rates as focus falls on no-deal Brexit risks
The Bank of England is set to hold interest rates at 0.75% on Thursday, but will be eyed closely for warnings over the economic risks of a no-deal Brexit.
Members of the Bank's nine-strong Monetary Policy Committee (MPC) are seen voting unanimously to keep rates unchanged after August's quarter point hike.
Its noon decision comes alongside the Bank's latest quarterly inflation report forecasts, which will be watched keenly as the UK edges closer to Brexit Day with a deal not yet in sight.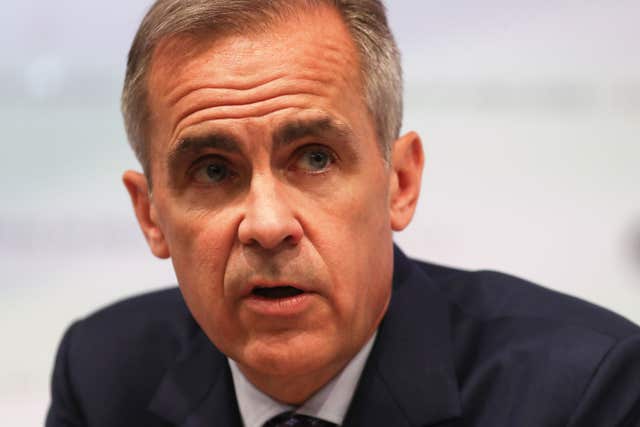 The Bank is unlikely to make any drastic changes to its inflation and growth forecasts, which are based on a "smooth Brexit" assumption.
But Governor Mark Carney will no doubt face questions over the mounting risks of a no-deal scenario as he presents the latest set of numbers.
James Smith, developed markets economist at ING, said: "The real question – and the one that is likely to dominate the headlines in the aftermath of Thursday's meeting – is what the Bank has to say on the risk of a 'no deal' Brexit."
He added: "It's unlikely policymakers will somehow put greater weight on the 'no deal' scenario in the average of Brexit outcomes it builds into its projections, but we may well see more explicit Brexit warnings in the statement."
Also in sharp focus will be the Bank's plans for further interest rate rises, having pushed through two hikes in the past year.
The Bank reiterated at its September meeting that further increases will be needed to rein in inflation.
The Bank has already signalled that rates would need to rise by around a quarter point a year over the next two or three years to bring inflation – currently running at 2.4% – back to target.
Recent stronger-than-expected economic growth over the summer would normally point to the need to raise rates, but the Bank is seen keeping its powder dry while Brexit uncertainty prevails.
Howard Archer, chief economic adviser to the EY Item Club, said: "We suspect that the Bank of England will maintain a cautious stance towards the next interest rate hike, particularly given current heightened Brexit uncertainties.
"We believe this will likely be reinforced by the Bank of England not making significant changes to its medium-term forecasts for growth, inflation, unemployment and earnings growth in the November quarterly inflation report compared to the August projections – although there could be some tweaking of the forecasts for 2018."
A spending boost sparked by the summer heatwave is set to see growth accelerate to at least 0.6% in the third quarter from 0.4% in the previous three months, but the Bank is likely to forecast this easing back in the final three months.
"We suspect that the Bank will maintain this view and will broadly stick with its forecasts that GDP will grow 1.4% in 2018, 1.8% in 2019 and 1.7% in 2020," said Mr Archer.
He believes rates will not rise now again until August 2019, followed by two in 2020, although this is based on the UK securing a deal with the EU.
Read Full Story