Landslide victory looms for the poet-turned-president
Michael D Higgins is set for a resounding victory after running a popular campaign.
Ireland's ninth president has campaigned for justice and equality throughout his life.
The 77-year old poet, professor and campaigner said he would only stand for one term – but after much speculation he confirmed in July that he would run again. His campaign for Aras an Uachtarain officially got under way last month.
Born in Limerick in the 1940s, Mr Higgins grew up in Limerick and Clare before he moved to Galway to study at University College Galway.
He began his career as an academic in the 1960s and 1970s, teaching political science and sociology in Ireland and the United States.
He entered the political arena in the late 1960s, joining the Labour Party and served as a senator in the 1980s before representing Galway West in the Dail from 1987 to 2011.
A fluent Irish speaker, Mr Higgins served as minister for Arts, Culture and the Gaeltacht in the 1990s.
He is also a published poet and has presented TV documentaries.
The long-time campaigner for equality was was elected president in 2011 after running as a Labour party candidate.
He secured 701,101 first preference votes which amounted to 39.6% of the vote. In total, he secured one million votes.
When his 2011 resounding victory was formally announced in Dublin Castle, he said he would be a President for all the people and he vowed to lead the country in a necessary transformation away from values based on wealth.
He also said he would attempt to help heal the wounds of the Troubles like his predecessors Mary Robinson and Mary McAleese.
Mr Higgins' success, secured after transfers from four counts, was the largest total in an Irish presidential election.
His win came after one of the most remarkable political comebacks ever. He seized an unprecedented 15% swing in support following the spectacular implosion of his biggest rival, independent Sean Gallagher, on live television in the final days of the campaign.
Once in office, Mr Higgins resigned from the Labour party, which he had been president of from 2003 until 2011.
He made history in 2014 when he became the first Irish president to undertake an official state visit to the UK.
Earlier this year, he welcomed Pope Francis to Ireland, the first papal visit in almost 40 years.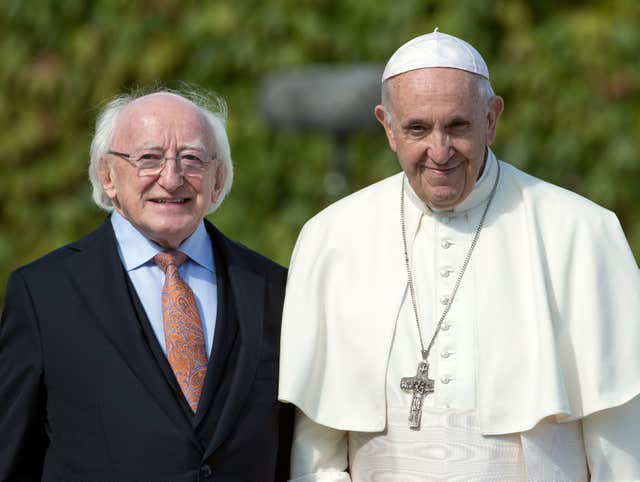 As the sitting president, Mr Higgins was able to nominate himself as an independent candidate for another seven years in office.
But he also secured the backing of Fine Gael, Fianna Fail and Labour – who agreed not to field candidates from their own parties.
He looks set to spend another seven years at Aras an Uachatarain with his wife Sabina, who he married in 1974. They have four children. His daughter Alice Mary Higgins followed her father into political life and is a representative in Ireland's lower house.
At the launch of his campaign in September, Mr Higgins encouraged voters to judge him on his values and not his age. He said that people should be judged on their cognitive ability and he said he no longer smoked or drank and has a yoga teacher.
Throughout the race, Mr Higgins drew criticism from his contenders over presidential expenditure. An allowance of up to 317,000 euro a year has been paid to each president since 1998 which is not audited, taxed or scrutinised.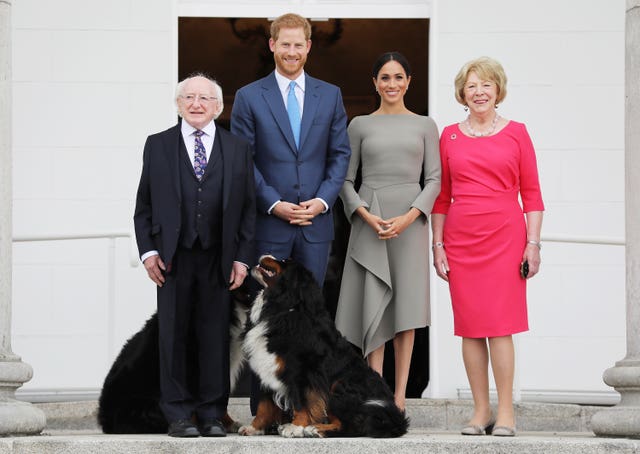 A parliamentary committee examined the spending after claims of extravagant outgoings by the office including expensive hotel suites on state visits. The president repeatedly denied any wrongful spending.
Despite repeated calls for him to publish details of how the allowance has been spent, he refused, instead committing to releasing details in November.
Mr Higgins admitted in the midst of the campaign that he had been "hurt" by allegations that any money was used for anything other than what it was intended for.
While he would not comment on individual candidates, the presidential hopeful told the Press Association the other candidates' queries about his expenses "shouldn't be used as a substitute for the absence of a platform".
The president was also roundly criticised by the other candidates for not participating in all of the presidential debates.
In the final days of the campaign, he came under attack for his use of the Government's jet to fly to Belfast in May. The president claimed that he flew rather than travelling by road due to security and logistics reasons but later he said it was because he was following the advice of his office.
The candidate, who had appealed for a dignified campaign at the outset, even found his two dogs, Brod and Sioda, coming in for attack.
Mr Casey took aim at Mr Higgins' Bernese mountain dogs in an online video.
Mr Higgins said he had put his own stamp on the presidency, as his predecessors had done before him.
"I am someone who came out of poverty with no prospects of education and became a university teacher and then left the university to take my stand on particular public issues," he told PA during the campaign.
Mr Higgins said he knew what was achievable within the confines of the Irish Constitution and he had never promised any initiative that was not achievable.
Labour party leader Brendan Howlin said Mr Higgins had been an exemplary President and that there was no one better to represent the people of Ireland during the next seven years.
"Not only does Michael D represent the best of the Labour and trade union tradition in Irish politics, but he has touched the hearts and minds of people from all walks of life, and all political persuasions," Mr Howlin said.
"Michael D Higgins showed a rare depth of sensibility during the recent centenary commemorations, and he has the authority and authenticity to speak for us all at the sensitive memorials yet to come."
Taoiseach Leo Varadkar congratulated Mr Higgins on Saturday morning as the counting began, tweeting he was "really happy" that the political veteran would continue to be the country's President for the next seven years.
Mr Higgins' plans for a second term including setting up a year-long initiative around achieving equality.
He also wants to launch an arts initiative called Imagination and the Nation, which aims to highlight the necessity of art and creativity in contemporary Irish life.
Mr Higgins has long championed an ethical Republic and has repeatedly addressed issues surrounding memory, commemoration, identity and the conflicting traditions on the island.
The refugee crisis in Europe and the plight of migrants has been a favourite topic, as well as the importance of the arts and Ireland's great literary tradition.