Pro-Palestine protesters confront UK's Israeli ambassador in Belfast
There were angry scenes as pro-Palestinian protesters confronted the UK's Israeli ambassador at Queen's University in Belfast.
A protester was restrained as several attempted to follow Mark Regev's car as he left the historic institution following a visit to speak to students.
Around 70 pro-Palestinian protesters gathered outside Queen's on Tuesday as Mr Regev gave a talk to Masters students who study subjects related to politics and conflict resolution as part of a workshop.
Queen's defended the invitation to Mr Regev saying it permits freedom of thought and expression.
The spokeswoman added that Queen's has also invited the Palestinian Ambassador to the UK to visit the university and engage with students in a similar format.
The Police Service of Northern Ireland (PSNI) maintained a presence as protesters waved Palestinian flags and took part in chants which included "Free Palestine" and "Regev out" outside the building.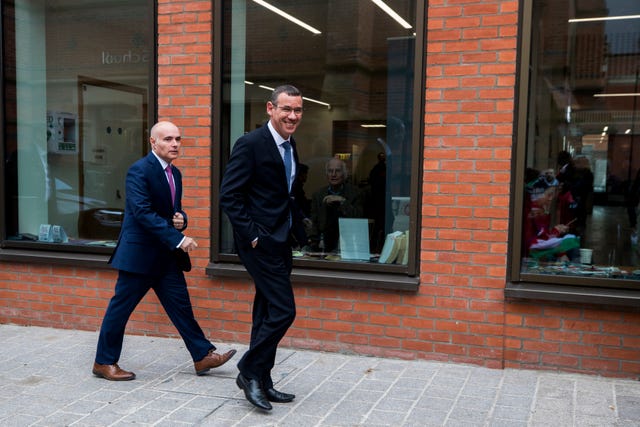 Earlier a number of protesters took part in a sit down demonstration blocking a corridor inside the building.
Ahead of the visit, the Queen's Student Union President Connor Veighey and People Before Profit MLA Gerry Carroll called for the invitation to Mr Regev to be rescinded.
Sinn Fein MLA Caoimhe Archibald also expressed "concern" by the decision to invite Mr Regev.
Queen's Student Union Student Activities officer Robert Murtagh and People Before Profit Belfast councillor Matt Collins were among those who addressed the demonstration.
Mr Murtagh said they were protesting against Mr Regev because he is a representative of Israel.
He said the Queen's University Students' Union backed the Boycott, Divestment and Sanctions (BDS) movement, which calls for an international boycott of Israel over the way it treats Palestinians.
"We didn't just wake up and decide to protest this," he said.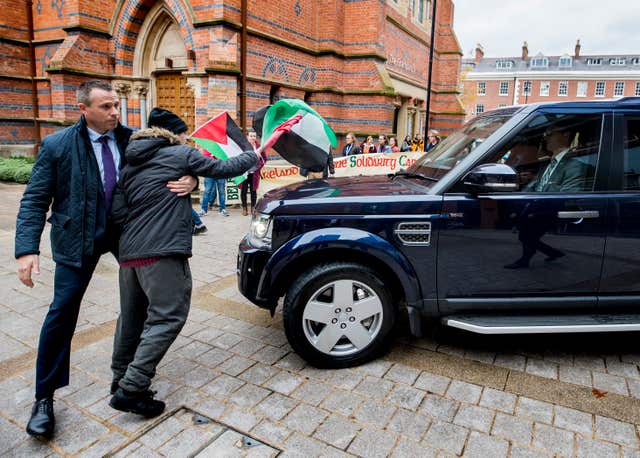 "It is also policy for NUS-USI and the NUS UK, students across the UK and Ireland have said we want BDS, we are in favour of a Boycott, Divestment and Sanctions movement.
"We oppose the continued occupation of Palestine, we oppose the human rights abuses against the people of the occupied territories and the people of Gaza.
"Thanks to those who occupied the corridor earlier as well, these forms of non-violent direct action is how we will win, how we will defeat Israelis, because we will say solidarity to the people of Palestine."
A spokeswoman for Queen's said: "Queen's University Belfast values its role in society as a place of debate and discussion. Academic freedom is enshrined as a guiding principle in the University's Charter and Statutes.
"On Tuesday 16 October UK Israeli Ambassador Mark Regev met with students who study subjects related to politics and conflict resolution. The students had an opportunity to directly engage with the Ambassador.
"The University recognises that students have the right to protest and in order to discuss the matter fully, representatives from Queen's have met with the Students' Union."
Meanwhile at Stormont on Tuesday morning, MLAs from a number of political parties, including the Democratic Unionists, Ulster Unionists, Traditional Unionist Voice and Alliance met with an Israeli
delegation including recent opposition leader Isaac Herzog.
Mr Herzog is the son of Chaim Herzog, a former president of Israel who was born in Belfast.
TUV leader Jim Allister said: "It was good to meet with the Herzog brothers at Stormont and make clear to them that Israel has some very firm friends in Northern Ireland.
"The protest by students at Queen's while important in terms of freedom of speech is in the long tradition of pointless left-wing student protests which long predate this visit.
"It is noteworthy in this case only because the protesters have exercised a right which they would have in Israel but, tellingly, would not have in any of her neighbours where freedom of speech isn't just disregarded but oppressed."
Mr Allister added he felt the protesters' time would have been "better employed" restoring a blue plaque in Belfast to Chaim Herzog.
The plaque at a property on Clifton Park Avenue in the north of the city was removed following attacks on it in 2014.