Prince of Wales raises glass to royal baby news
A smiling Prince of Wales revealed on a tour of a whisky distillery he had toasted news of the Duke and Duchess of Sussex's baby "several times".
Charles spoke about becoming a grandfather again during a visit to Royal Lochnagar Distillery in Aberdeenshire, where he sampled a 30-year-old malt produced in his honour.
Asked if he had toasted news of Harry and Meghan's baby, the prince, who is known as the Duke of Rothesay while in Scotland, replied with a laugh: "Oh yes, absolutely. Several times, thank you."
Workers at the distillery on Royal Deeside filled a cask in 1988 as a gift to the then-visiting prince, with the exclusive whisky to be bottled and sold for charity to mark his 70th birthday.
Sampling the single malt on Tuesday, Charles remarked on its initial sweet notes before describing it as "frightfully good".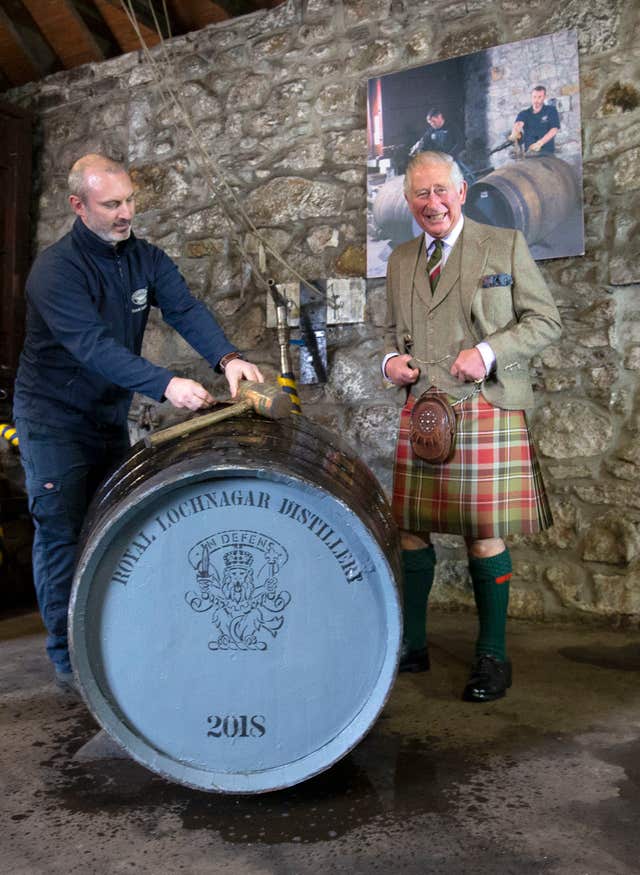 The Duke of Rothesay fills a new whisky cask alongside senior operator Ryan Cromar (Jane Barlow/PA)He has donated the contents of the cask to raise funds for The Carriage in nearby Ballater, a bistro and tearoom at the village's newly restored Old Royal Station.
The historic stop was devastated by a fire in 2015 and has been brought back into public use with the help of The Prince's Foundation.
Bottles of the special edition malt are expected to be purchased via a ballot run by The Whisky Exchange for around £1,200 each.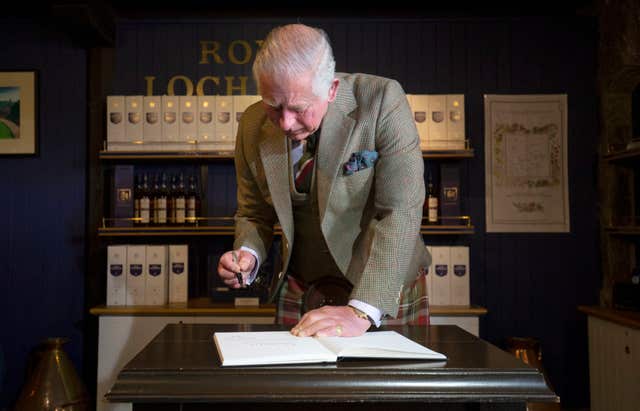 Ewan Andrew, director of distillery owner Diageo, said: "We are delighted to have welcomed His Royal Highness and to formally hand over this special cask, which will become the oldest single cask bottling of Royal Lochnagar Scotch whisky.
"We are particularly pleased that this will support the local community in Royal Deeside."
The distillery next to the royals' Balmoral Castle was called New Lochnagar when it opened in 1845 but was renamed Royal Lochnagar following a visit by Queen Victoria and Prince Albert in 1848.
It is the smallest of Diageo's Scotch whisky distilleries and retains traditional methods of production.
During his visit, Charles filled and signed a new cask that will be matured for 12 years to raise funds for future charity projects.
He laughed as some of the malt spilled out and told workers "I'm glad to be here at the birth".