Devonport chosen as base for new Navy frigates
A group of eight next generation Royal Navy warships will be based at Devonport Naval Base, the Defence Secretary has announced.
The type 26 frigates will all be based in Plymouth, ending speculation they would be split between there and Portsmouth.
Gavin Williamson made the announcement on Monday on board HMS Montrose, where he said the £3.7 billion programme would secure the future of Devonport.
He said in a speech: "The largest naval base in western Europe, Devonport is the lifeblood of Plymouth and is as synonymous with this city as it is with our famous Royal Navy.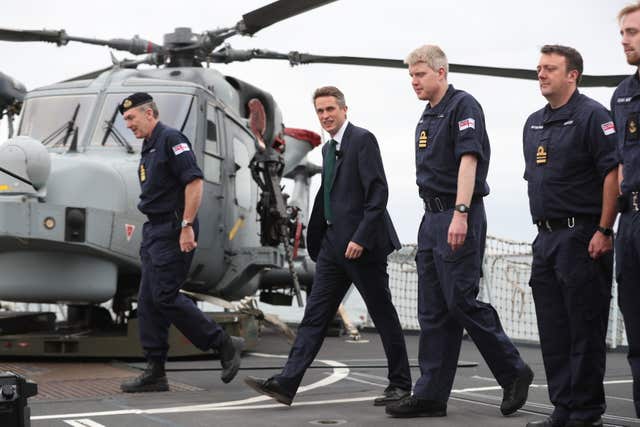 "Ships have set sail from Devonport's dock to defend our great nation for hundreds of years, and I can reveal that the truly world-class type 26 frigates will follow in their wake.
"We are living in increasingly dangerous times, with the threats intensifying both on and beneath the water. Plymouth should be in no doubt that it will be right at the heart of Britain's fight for a safer world by homing these formidable warships."
The 6,900-tonne frigate is designed for anti-submarine warfare and will enter service by the mid-2020s.
They have been ordered from the BAE Systems shipyards on the Clyde, with four already named as HMS Glasgow, HMS Cardiff, HMS Belfast and HMS Birmingham.
After the speech Williamson said the plans would give confidence to the public about the Government's plans for Devonport, which employs 2,500 people and generates 10 per cent of Plymouth's income.
Mr Williamson said: "This is going to be a massive boost for the area. This is a multi-billion pound programme which is going to ensure the future of the base.
"We need to make sure the Royal Navy is in the best position to be able to plan for their future.
"These are world-leading frigates. The Royal Australian Navy are also investing in these same frigates because there's a real clear understanding about the world-leading technology.
"This will play an important part in keeping Britain safe for the future, important in ensuring that we have the capabilities to deal with the increasing threat of Russia."
Asked whether Russia's threat had prompted recent announcements of investment to defence, Mr Williamson said: "There is a recognition that the threat from Russia is stepping up, and this is why the commitment to the Type 26 to Devonport is timely at this moment."