PM warned not to ignore Boris Johnson's 'chuck Chequers' message
Theresa May has been put on notice to "chuck Chequers" after Brexiteers said Boris Johnson's speech demonstrated the strength of opposition to her plan in Tory ranks.
Iain Duncan Smith, a former leader of the party, said Tory chiefs had to recognise when the membership is "saying something to you".
Former cabinet ministers Owen Paterson and John Redwood said Mrs May had to understand that mainstream opinion in the party was bitterly opposed to her plan.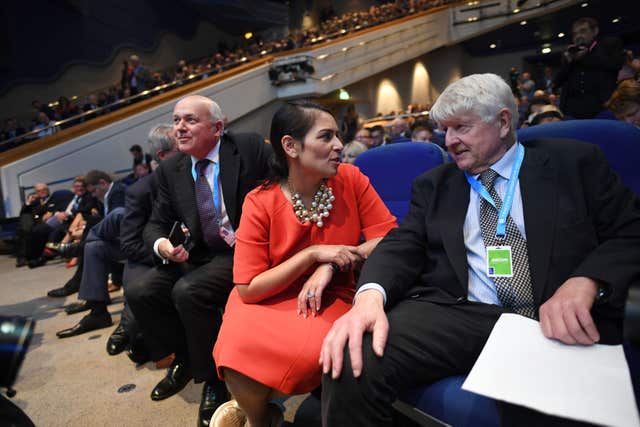 Mr Johnson's call to "chuck Chequers" in his speech at a fringe event at the Conservative Party Conference received a thunderous ovation.
Mr Duncan Smith, who was in the 1,500 capacity hall for the event, said: "This is a message to the Government."
With Mrs May's keynote conference speech due tomorrow, Mr Duncan Smith said: "This hall could have been filled half again by people wanting to hear an upbeat message about who we are and where we are going.
"I have to tell you, I want the Prime Minister to reflect that tomorrow. We tried – she sent Chequers to the EU and they said they didn't like it.
"She needs to tell them now: 'OK, great, if you want free trade you have got to break the backstop nonsense, otherwise we are going to WTO.'
"She will get a standing ovation.
"The country will back her because they want to get out, that's what they voted for."
Mr Duncan Smith, who was ousted as leader in 2003 after little more than two years, said the Tory party "knows when it has to make a change, it gets to that point and it discovers that actually the party's collective intelligence is telling the leadership 'you are in the wrong place'".
"Sometimes – and I have stood as leader myself – you need to recognise that they are saying something to you and you need to bear that in mind, because not just them but vast swathes of the country are saying: 'Be proud, we are British, we don't need to be on bended knee to the EU.'"
He added: "I have a very strong view that the Prime Minister is listening and I believe that you will see a move in due course over the way the Chequers deal is being pushed and in fact we will end up with a free trade arrangement with the EU."
Other former ministers who were in the audience for Mr Johnson's speech were also clear about the message his address – and its enthusiastic reception – sent to Mrs May.
Former environment secretary Owen Paterson said: "She must chuck Chequers and go back to her manifesto, on which she won the second largest number of votes since John Major."
He said the attendance at Mr Johnson's speech was "a massive political statement" and "we are the mainstream".
Mr Redwood said: "She has got to listen to it because this is the heart of the nation, the heart of the party."
He added: "This is not some fringe element, this is where the country is, this is what 17.4 million people voted for."
Tory MP James Duddridge said: "Turns out there is a plan. That plan is Boris."