May statement receives praise from DUP and disdain from Sinn Fein
Prime Minister Theresa May's stern statement to the European Union has been both praised and dismissed across the Irish Sea.
Democratic Unionist Party deputy leader Nigel Dodds welcomed Mrs May's rejection of a border in the Irish Sea, while Sinn Fein President Mary-Lou McDonald said it was "nothing but tired rhetoric".
Speaking at Downing Street on Friday following an EU summit in Salzburg, Mrs May said the United Kingdom and the European Union remain a "long way apart" on two big issues around Brexit.
She said she rejected a proposal by the EU to keep Northern Ireland in the customs union while the rest of the UK was out of it.
"That is unacceptable. We will never agree to it. It would mean breaking up our country," Mrs May said, challenging the EU to offer an alternative option.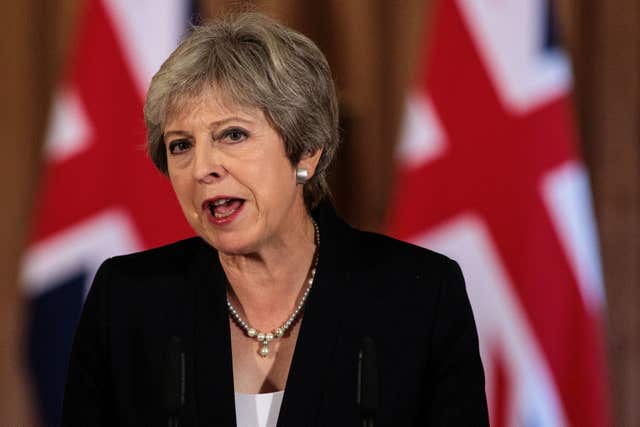 The Prime Minister also reaffirmed the Government's commitment to no hard border in Northern Ireland, before ending on a strident note.
"The EU should be clear: I will not overturn the result of the referendum. Nor will I break up my country," she said.
DUP Westminster leader Nigel Dodds welcomed the Prime Minister's reassurances on the Northern Ireland border issue, but called for her to now "stand up" for the UK's interests.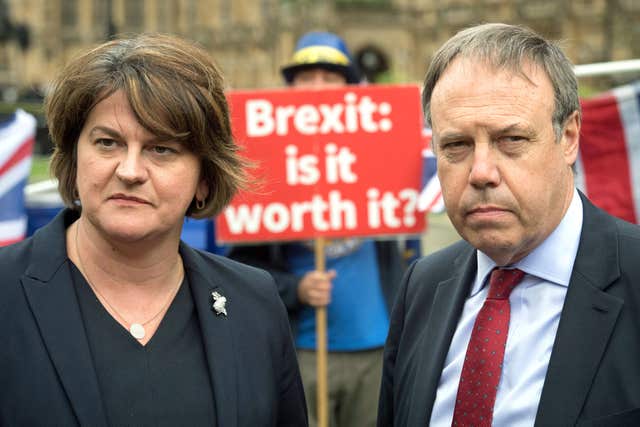 "It is time now that the Prime Minister demonstrates publicly, privately and to everyone in her own party and to Europe, to Parliament, that she is going to stand up for the UK's interest, including in Northern Ireland, that she is not going to be pushed around by Europe, she's not going to be bullied, she's not going to be coerced into either doing a bad deal for the United Kingdom or breaking the United Kingdom," Mr Dodds told the BBC.
The North Belfast MP also revealed his party had been in regular contact with the Government over recent days and weeks.
"I think the Prime Minister's very firm reiteration of not breaking up the United Kingdom, of the importance of what she has described as our precious union, is coming across very, very strongly," he added.
Mrs McDonald gave a very different reaction, accusing Mrs May of "deflection".
"Theresa May made a statement today which was billed as a major one in respect of Brexit negotiations. It was, regrettably, no more than an exercise in tired rhetoric," she said.
"Rather than accepting that her so-called 'Chequers Plan' fails to resolve fundamental issues, Theresa May has engaged in deflection.
"Her focus has unfortunately remained on infighting within her own party and her pact with the DUP, instead of coming to an acceptable negotiating position."
SDLP leader Colum Eastwood accused Mrs May's government of "belligerence".
"The Prime Minister is doubling down on her already unworkable 'take it or leave it' belligerence as a tactic to deliver Brexit," he said.
"Despite the EU attempting to give the UK encouragement to take steps that will be in the best interests of our citizens the Prime Minister has chosen to continue with her failed strategy.
"In failing to adequately respond to the mess of their own making the UK Government have left the people of Northern Ireland in an extremely vulnerable position."
However, Ulster Unionist Party leader Robin Swann gave a strong welcome to Mrs May's statement.
"The single sentence – 'I will not overturn the result of the referendum nor will I break up my country' indicates that the Prime Minister has grasped fully what the result of agreeing to any deal which involved 'special status' or a separate set of arrangements for Northern Ireland would really mean," he said.
"As the Ulster Unionist Party has said before, Brexit cannot and must not be used to establish an internal border within the United Kingdom of any form. The referendum was about whether or not the UK left the EU, it was not about whether or not Northern Ireland left the UK.
"Unionists will be reassured by the Prime Minister's comments today and her commitment to ensuring that Northern Ireland will not be used as a bargaining chip in the Brexit negotiations."