No Chequers changes at the moment, says Grayling despite EU and Tory opposition
A Cabinet minister has said there are no changes "on the table at the moment" to Theresa May's Brexit plan, amid blunt warnings from EU leaders.
Leave-backing Transport Secretary Chris Grayling insisted Britain is "preparing hard" for a no-deal Brexit, although he predicted a "sensible agreement" will be reached with Brussels.
But European Council president Donald Tusk stressed that economic aspects of Mrs May's Chequers proposals "will not work", while former Brexit secretary David Davis disclosed a "rock-solid core" of up to 40 Tory colleagues could vote against the Government's favoured approach.
The Prime Minister's minority government allies the DUP also pressed her to demonstrate a determination "not to be bullied" by the EU in what is shaping up to be a tense final month of negotiations as time runs out to reach a deal.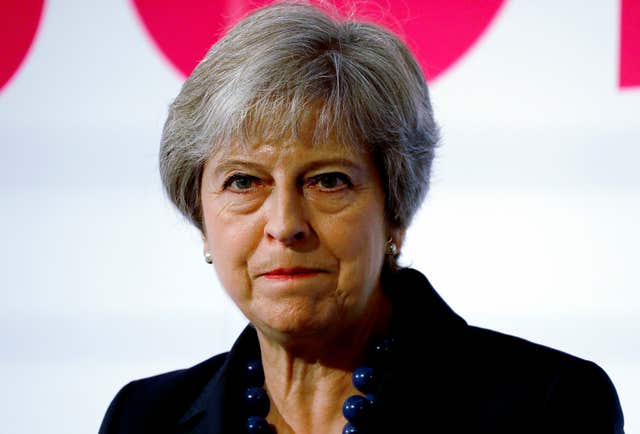 Mrs May remains wedded to the Chequers blueprint, noting it is the only proposal on the table as the deadline approaches, although she indicated the UK will unveil new measures on the future status of the Northern Irish border in a bid to break the deadlock.
She has flatly rejected a European Commission backstop proposal for Northern Ireland to remain within the EU customs area after Brexit, arguing this would draw a border down the Irish Sea.
The PM's remarks came following an eventful two-day EU summit in Austria, which also saw German Chancellor Angela Merkel talk of the need for "substantial progress" over the next four weeks and French President Emmanuel Macron describe leaders of the Brexit campaign who told British voters it would be easy as "liars".
Mr Grayling said the Government would not drop its Chequers plans in the face of "tough" language, adding the EU's demands on Northern Ireland are "impossible" for the UK to accept.
Asked whether he would stay in Cabinet if concessions were made on Chequers, Mr Grayling told BBC Two's Newsnight: "I'm not going to comment on specific changes to Chequers.
"There are none on the table at the moment. There are things that I wouldn't personally accept, but nor would the Prime Minister.
"The PM has set out red lines that this country is not going to stay in the single market, we're not going to stay in the customs union – I agree with her on those, that's the Government's position.
"We're not going to accept a border between NI and the rest of the United Kingdom.
"We are now preparing hard for the option of a no-deal Brexit. We don't want to get there, we don't expect to get there. But our European partners if they want to reach a deal, have to find a way of understanding that there are some things we cannot accept."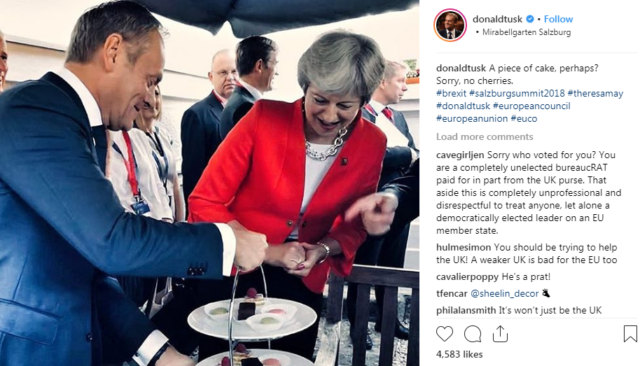 Mr Tusk appeared to mock Mrs May after posting on Instagram a photo of the pair looking at cakes with the caption: "A piece of cake, perhaps? Sorry, no cherries."
Irish deputy prime minister Simon Coveney, asked if this was an attempt to humiliate Mrs May in Salzburg, told Newsnight: "I certainly hope not.
"The Irish relationship with the United Kingdom is one that we value."
The next major milestone in the Brexit process is fast approaching, with the October 18 summit labelled a "moment of truth" by Mr Tusk.
An additional Brexit summit could be held in November, but only if a deal is within reach.
With the Chequers plan facing resistance from the EU and a bitterly divided Conservative Party, a no-deal Brexit remains a potential outcome.
Tory MP Mr Davis, speaking to HuffPost UK, said of the strength of the Tory rebels: "Every group in any political party has differences, egos and so on.
"But with Labour voting against, the critical size of the voting bloc is quite small, it's basically a dozen people.
"The rock-solid core of the [European Research Group] is a multiple of that. I'm not even an ERG member. It's probably 30, 40."