Fuel prices up for 11th week in a row
Motorists have been hit by an 11th successive week of fuel price rises.
The average cost of a litre of petrol stands at £1.31 at UK forecourts, with diesel costing £1.35, Government figures show.
Fuel has not been more expensive than current levels since July 2014.
Over the past six months the cost of filling up a typical 55-litre family car that runs on petrol or diesel has risen by around £6.
There is growing speculation that the eight-year freeze on fuel duty could be scrapped in this autumn's Budget.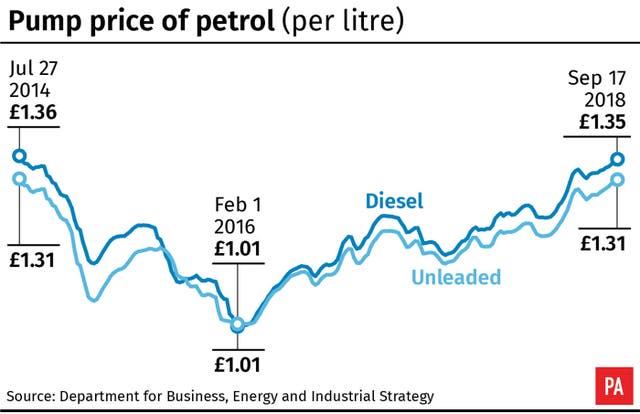 Earlier this month Chancellor Philip Hammond told MPs his department's analysis from 2014, which stated the benefits of the freeze offset all tax losses, would "have to be looked at again in the context of the economy today".
Fuel duty has been kept at a rate of 58p per litre since 2011. Mr Hammond said this has saved the average car driver £850 compared with the pre-2010 escalator.
Steve Gooding, director of the RAC Foundation, said: "We're still 12-14p away from the record pump prices seen back in 2012 when oil was trading as high as 120 US dollars a barrel, whilst today Brent crude is nearer to 80 US dollars a barrel.
"However, if sterling remains weak against the dollar then we could be testing those forecourt highs with oil at no more than 90-95 US dollars a barrel.
"With all the uncertainty in the world that is not a far-fetched scenario."
Read Full Story