Corbyn accuses PM of 'pouring petrol on society's burning injustices'
Jeremy Corbyn has accused Theresa May of "pouring petrol" on society's burning injustices with the Government's flagship welfare reforms.
The Labour leader focused his attack on Universal Credit (UC) at Prime Minister's Questions, reeling off a list of organisations which believe the policy is "flawed and failing hundreds of thousands of people" who are working and unemployed.
He told MPs that the policy was "taking money away from families and putting more children into poverty".
Mr Corbyn, who faced a barrage of jeers and shouts from the Tory benches, also rounded on Mrs May's Brexit negotiations — saying that her premiership was an "abject failure".
He said: "In 2010, the Government declared that Universal Credit would lift 350,000 children out of poverty. Does the Prime Minister stand by that figure?"
Mrs May defended UC as she told MPs that a simpler welfare system which encourages people into work rather than discourages them was needed.
She said: "Remember the legacies system of the Labour Party? It meant we even had individuals being paid £100,000 a year on benefits, all paid for by hard-working taxpayers earning a fraction of that sum."
Mr Corbyn hit back, citing a report from the National Audit Office on Universal Credit, saying: "Universal Credit isn't making work pay, it's taking money away from families and putting more children into poverty.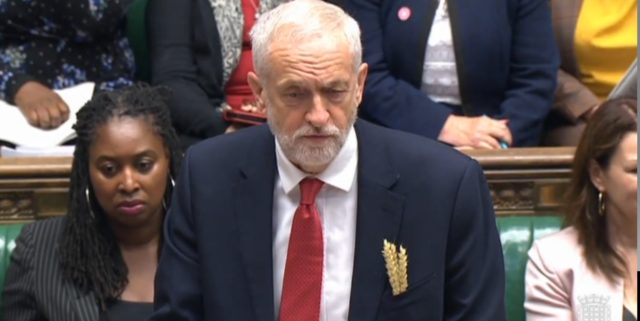 "The National Audit Office report found that Universal Credit is creating hardship forcing people to use foodbanks and could actually end up costing the system even more, does the Prime Minister dispute the NAO findings?"
Mrs May responded by recalling her experience with a constituent when Labour were in power, she said: "I remember the single mother who came to see me as her Member of Parliament when Labour were in Government.
"She told that she wanted to get into the workplace and provide a good example to her child but the Job Centre had told her she'd be better off on benefits — that's the legacy of the Labour Party."
Mr Corbyn ended by telling the Prime Minister that her Brexit negotiations were an "abject failure" — drawing jeers and shouts from the Tory benches.
The Labour leader said: "Everywhere you look this Government is failing: one million families using food banks, one million workers on zero-hours contracts, four million children in poverty, wages lower today than 10 years ago.
"On top of that there's the flawed and failing Universal Credit, disabled people risk losing their homes and vital support, children forced to use food banks and the Prime Minister wants to put two million more people onto this.
"The Prime Minister is not challenging the burning injustices in our society, she's pouring petrol on the crisis. When will she stop inflicting misery on the people of this country?"
Mrs May dismissed the accusation and told Mr Corbyn to instead look at the injustices in the Labour Party.
She said: "What have we seen in Labour over the past few days, Iranian state TV broadcasting no confidence votes against Labour Members of Parliament, police investigating anonymous and threatening letters about the deselection of Labour MPs sent to Labour offices.
"Most shamefully of all (Chuka Umunna) saying that the Labour Party is now an institutionally racist party, that's what he's done to Labour, just think what he'd do to this country."
Both leaders began PMQs by paying tribute to England cricketer Alastair Cook following his retirement from the international game.
Mrs May said: "As England's highest-ever scoring batsman, his incredible career had many highlights including the magnificent 147 in his last innings against India, and we wish him the very best for his future."
Read Full Story