Sprinklers could have saved primary school damaged by fire, says brigade
Sprinklers could have saved a school building which was gutted by a huge blaze a day before pupils were due to return from their summer break, London Fire Brigade has said.
One of Roding Primary School's sites in Dagenham was destroyed in the fire which raged in the early hours of Tuesday morning, the brigade said.
Some 80 firefighters tackled the blaze at the Hewett Road building, the cause of which remains under investigation.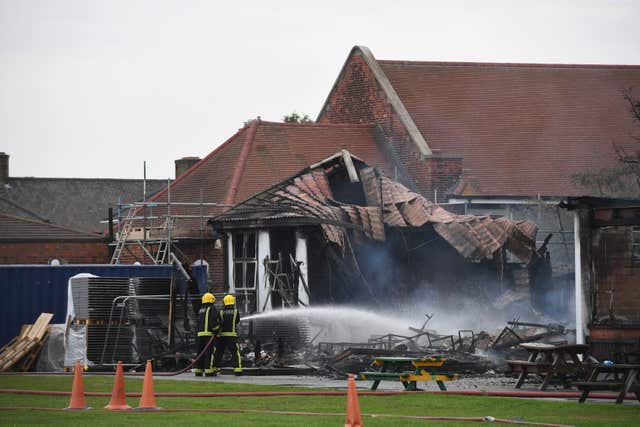 A large part of the single storey structure was damaged, although no-one was injured in the blaze, which took around three hours to bring under control.
The building was not fitted with sprinklers, London Fire Brigade (LFB) said, citing it as a strong example of the need for such devices in schools.
The Brigade's Deputy Assistant Commissioner, Lee Drawbridge, said: "There could be no clearer example of why sprinklers in schools are so important as they could have significantly reduced the damage and impact of this fire.
"Crews were faced with a serious blaze when they arrived at the school and worked very hard to bring it under control but given the intensity of the fire, there is unfortunately significant damage to the school."
The site has suffered fire, smoke and water damage and will remain closed until further notice, the local council said.
Suitable alternative accommodation is being sought and parents will be notified of any update, Barking and Dagenham Council said.
The school's other site on Cannington Road will reopen as normal on Wednesday, it added.
In a statement on its website, the council said: "Thanks to everyone for their patience and support while we work with the school on the clear up operation and getting pupils back to school as quickly as possible."
LFB said it was calling on the Government to make sprinklers mandatory in all new school builds and major refurbishments.
Mr Drawbridge said: "London's firefighters are called to more than 80 fires in schools every year and, in most cases, sprinklers are not fitted, meaning millions of pounds are wasted repairing fire and water damage."