Pope vows to study memo on Irish mother and baby homes
The Pope has pledged to study an Irish Government memo about a mass grave at a former home for unmarried mothers and their babies.
Remains were discovered in underground chambers in Tuam in Co Galway in western Ireland.
Hundreds of people took part in a vigil there during the pontiff's two-day visit to the Republic over the weekend.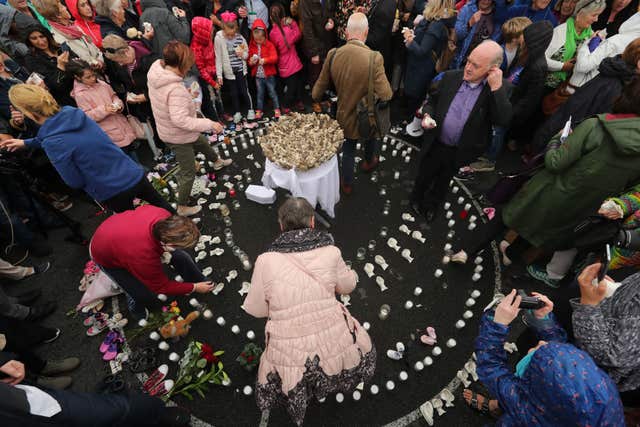 On his flight back to Rome, the Pope told reporters: "It touched my heart, that is why I wanted to repeat it during my speech."
Survivors who met the Pope have expressed shock he knew nothing of Magdalene laundries and mother-and-baby homes.
Irish Children's Minister Katherine Zappone gave him a memo about Tuam.
Francis told reporters including Irish broadcaster RTE on Sunday evening: "I had never heard of these mothers, they call it the laundromat of women where an unwed woman is pregnant and goes into these hospitals, I don't know what they call them, schools, run by the nuns and then they gave children to the people in adoption."
The Pope vowed to pursue justice for victims of church abuse in Ireland as he ended his historic visit to the country by seeking forgiveness for its dark litany of clerical crimes.
Addressing a large crowd of pilgrims at an open air Mass in Dublin's Phoenix Park, Francis laid bare the many forms of abuse and mistreatment meted out to children and vulnerable adults in past decades.
On Sunday, around 500 people gathered for the silent vigil in Tuam to coincide with the Papal Mass.
They walked from Tuam Town Hall for 30 minutes to the former site of the mother and baby home while stopping at poignant spots along the way, including the local graveyard.
Baby shoes, toys and teddy bears were tied to the railings along the route.
They gathered at the site where remains of infant bones have been found, which was managed by the Sisters of the Bon Secours between 1925 and 1961.
In 2013, local historian Catherine Corless discovered official records showing that around 800 children died at the home in Tuam.
In March, a commission of investigation announced it had found "a significant number of human remains" at the site.
Read Full Story