Facts and figures about the F-35 fighter jets
The Royal Navy aircraft carrier HMS Queen Elizabeth is setting sail to the US to carry out flight trials with the supersonic F-35B Lightning II.
Here are some facts and figures about the fighter jets which are based at RAF Marham in Norfolk:
- The jet measures 51.2ft (15.6m) in overall length, has a wingspan of 35ft (10.7m) and a height of 14.3ft (4.36m).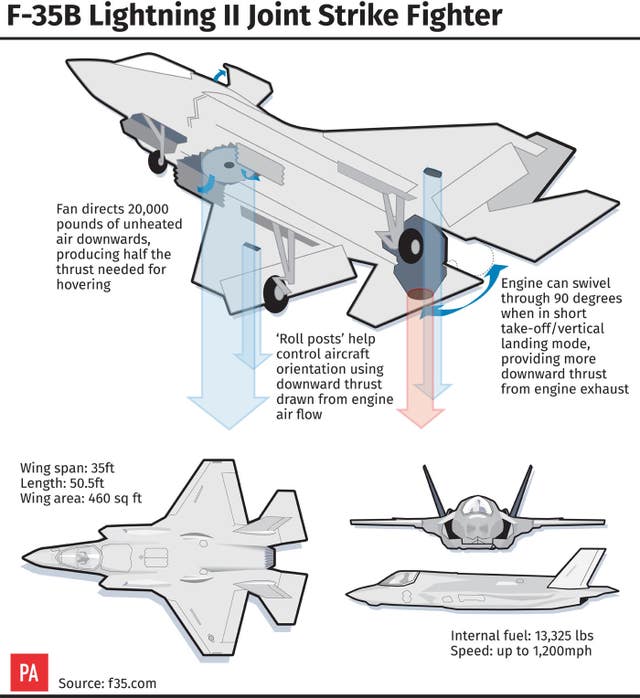 - It has a top speed of 1.6 Mach or 1,200 mph, a Max G rating of 7G, and a combat radius of 518 miles (833km).
- Lockheed Martin, the American company building the jet, describes its stealth capabilities as "unprecedented". Its airframe design, advanced materials and other features make it "virtually undetectable to enemy radar".
- Britain has committed to a £9.1 billion programme to buy 48 of the jets by 2025 - with a pledge to purchase 138 - they will be jointly operated by Royal Air Force and Royal Navy pilots.
- The F-35B jets are built from more than 300,000 individual parts.
- The UK's supersonic aircraft have been based in the US since their manufacture.
- There are six distributed aperture system sensors around the jet - two underneath, two on top of the aircraft and one either side of the nose. These infrared cameras feed real-time information and images into the pilot's helmet, allowing them to see through the airframe.
- All variants of the jets are mainly constructed on Lockheed Martin's mile-long production line in Fort Worth, Texas.
- It takes 58,000 man hours to build each F-35B.
- The F-35 can launch from land, and will take off from HMS Queen Elizabeth via the skip jump ramp, which has been designed to optimise the launch.
- Maximum thrust tops 40,000lb and the jet has a range of 900 nautical miles.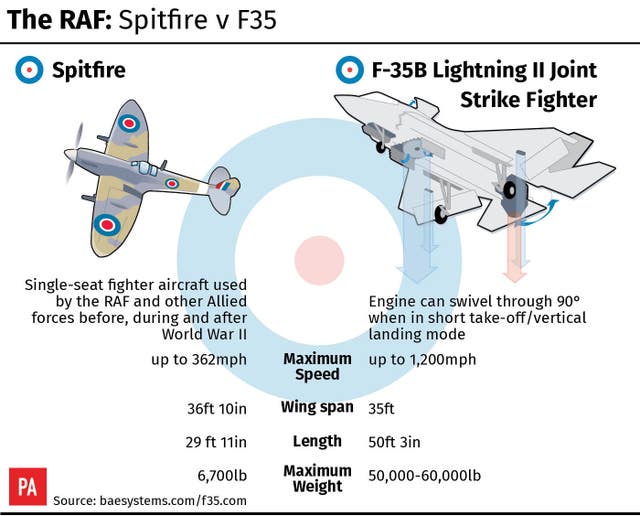 - The jet is capable of two types of ship landing - vertically on to the deck, and also through the shipborne rolling vertical landing, which using forward air speed, allows the aircraft to bring back several thousand pounds of extra weight to the ship.
- The warplanes will carry out missions from the two Queen Elizabeth-class aircraft carriers - HMS Queen Elizabeth and HMS Prince of Wales.
- Lockheed Martin said across the 3,000 jets being built, 15% of each one is comprised of parts from British companies.
- Some of the UK companies with contracts to produce parts of jets includes Rolls-Royce, BAE Systems, Ultra Electronics, Selex, Cobham and GE Aviation.
- Lockheed Martin UK chief executive Peter Ruddock said that, to date, the F-35 programme has generated 13.5 billion dollars in contracts for British suppliers.
- HMS Queen Elizabeth weighs 65,000 tonnes and has a top speed of 25 knots, its flight deck is 919ft (280m) long and 230ft (70m) wide - enough space for three football pitches.
(function(i,s,o,g,r,a,m){i['GoogleAnalyticsObject']=r;i[r]=i[r]||function(){ (i[r].q=i[r].q||[]).push(arguments)},i[r].l=1*new Date();a=s.createElement(o), m=s.getElementsByTagName(o)[0];a.async=1;a.src=g;m.parentNode.insertBefore(a,m) })(window,document,'script','//www.google-analytics.com/analytics.js','ga'); ga('create', 'UA-72310761-1', 'auto', {'name': 'pacontentapi'}); ga('pacontentapi.set', 'referrer', location.origin); ga('pacontentapi.set', 'dimension1', 'By Ben Mitchell, Press Association'); ga('pacontentapi.set', 'dimension2', 'c84cc233-53b2-4e30-a1e4-18908ee0f1d1'); ga('pacontentapi.set', 'dimension3', 'paservice:news,paservice:news:uk'); ga('pacontentapi.set', 'dimension6', 'story'); ga('pacontentapi.set', 'dimension7', 'composite'); ga('pacontentapi.set', 'dimension8', null); ga('pacontentapi.set', 'dimension9', null); ga('pacontentapi.send', 'pageview', { 'location': location.href, 'page': (location.pathname + location.search + location.hash), 'title': 'Facts and figures about the F-35 fighter jets'});
Read Full Story