£10,000 reward offered in Lucy McHugh murder probe
A Crimestoppers reward of £10,000 is being offered for information leading to the arrest and conviction of the person responsible for the murder of schoolgirl Lucy McHugh, as detectives wait for Facebook to give them access to a suspect's account.
The body of the 13-year-old was discovered in woodland at Southampton Sports Centre at 7.45am on July 26. She had been stabbed to death.
She was last seen leaving her home in Mansel Road East the previous morning, wearing a black jacket with white sleeves, the logo for the band Falling In Reverse on the front and RADKE 01 in red on the back.
She also wore a white vest top, camouflage leggings and black-and-white Jordan trainers.
Emily van der Lely, Crimestoppers spokeswoman, said: "This is every family's worst nightmare, to have their child taken away from them at such a young age, it's heartbreaking.
"I can't even begin to imagine what Lucy went through and the suffering her family are currently experiencing. This is why our charity is putting up this money, in the hope we can bring the person or people to justice.
"Everyone who contacts Crimestoppers remains 100% anonymous. Always. I'd really encourage anyone with information to pick up the phone or complete our secure and anonymous online form, and help provide some answers to what happened to Lucy."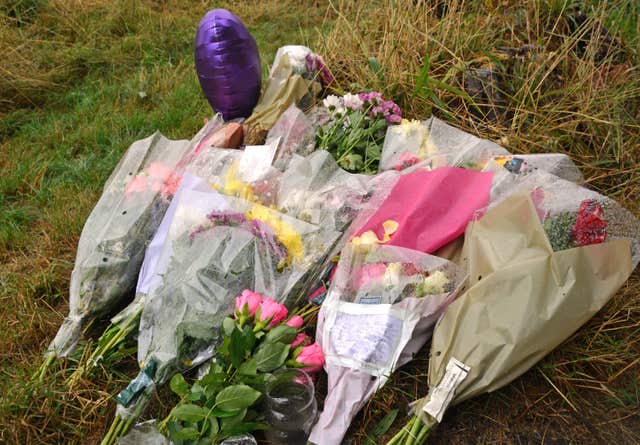 Hampshire Police confirmed that they have asked Facebook to "preserve" the account of suspect Stephen-Alan Nicholson and were still awaiting a response on whether they will gain access to it.
It is understood that the request is a lengthy process as the US-based internet giant is not obliged to provide the information and the application will have to be approved by the US Department of Justice.
A spokesman for the Hampshire force said: "In the early stages of the investigation, we put in a request to Facebook to 'preserve' relevant accounts.
"This means that information on these accounts is saved up to the point of them being preserved.
"Enquiries are ongoing with Facebook about this issue."
A Facebook spokesman said: "We are working directly with Hampshire Police on this case."
Police are analysing 15,000 hours of CCTV footage from 250 premises with detectives also receiving 200 reports from the public and 800 items including sharp implements and clothing.
Almost a million people have also seen police appeals on Facebook and other social media.
Suspect Stephen-Alan Nicholson, who was arrested on suspicion of murder and sexual activity with a child, was released on police bail on July 31 but was remanded in custody by Southampton Magistrates' Court after he was charged under the Regulation of Investigatory Powers Act (Ripa) for failing to provide his Facebook password to detectives.
The 24-year-old will next appear at Southampton Crown Court on August 31.
Information can be provided to Crimestoppers anonymously on 0800 555111 or through the non-traceable anonymous online form at www.crimestoppers-uk.org.
(function(i,s,o,g,r,a,m){i['GoogleAnalyticsObject']=r;i[r]=i[r]||function(){ (i[r].q=i[r].q||[]).push(arguments)},i[r].l=1*new Date();a=s.createElement(o), m=s.getElementsByTagName(o)[0];a.async=1;a.src=g;m.parentNode.insertBefore(a,m) })(window,document,'script','//www.google-analytics.com/analytics.js','ga'); ga('create', 'UA-72310761-1', 'auto', {'name': 'pacontentapi'}); ga('pacontentapi.set', 'referrer', location.origin); ga('pacontentapi.set', 'dimension1', 'By Ben Mitchell, Press Association'); ga('pacontentapi.set', 'dimension2', '280b633a-a5b6-4e19-9861-2f02b52ac639'); ga('pacontentapi.set', 'dimension3', 'paservice:news,paservice:news:uk'); ga('pacontentapi.set', 'dimension6', 'story'); ga('pacontentapi.set', 'dimension7', 'composite'); ga('pacontentapi.set', 'dimension8', null); ga('pacontentapi.set', 'dimension9', null); ga('pacontentapi.send', 'pageview', { 'location': location.href, 'page': (location.pathname + location.search + location.hash), 'title': '\xA310,000 reward offered in Lucy McHugh murder probe'});
Read Full Story