How much has your energy bill increased?
The latest British Gas price hike follows similar recent rises from other suppliers affecting millions of households.
E.ON, SSE, Npower, EDF, ScottishPower and Bulb have all hiked energy prices, blaming wholesale energy costs for the increases.
British Gas is raising the cost of its SVT by 3.8% on October 1, meaning the average bill for 3.5 million existing dual fuel customers will increase by £44 to £1,205.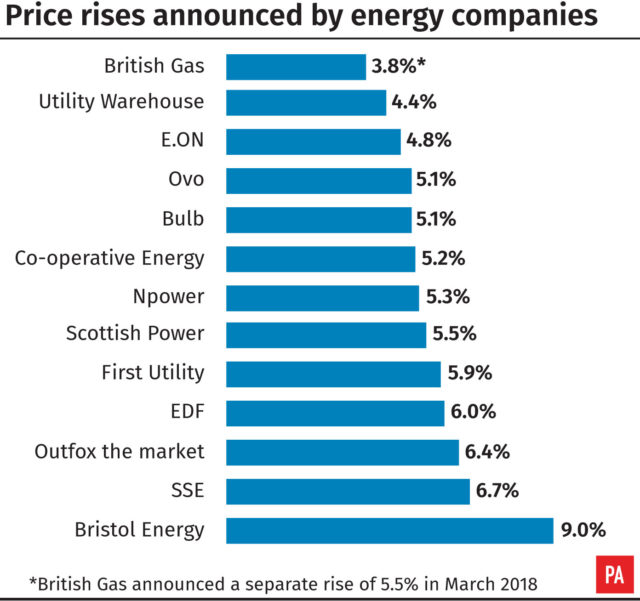 The increase is the second for British Gas customers this year, after the company announced in April that it was increasing its prices by an average 5.5% from May 29, adding a total of £104 (9.4%) to the average bill.
Ofgem has just announced that its safeguard tariff, which protects five million households from overcharging, will rise by £47 per year in October to £1,136.
But the regulator, along with consumer groups and politicians, urge energy customers who are not happy with their tariff to switch supplier, or at least the deal they on, saying they could potentially save almost £400 a year.
Rik Smith, uSwitch.com energy spokesman, said: "The only silver lining is that households are switching and saving in greater numbers than ever before.
"So far this year 2.7 million people have voted with their feet and ditched their supplier. Switching is quick, easy and could save households up to £482 a year - far more than any cap has predicted."
(function(i,s,o,g,r,a,m){i['GoogleAnalyticsObject']=r;i[r]=i[r]||function(){ (i[r].q=i[r].q||[]).push(arguments)},i[r].l=1*new Date();a=s.createElement(o), m=s.getElementsByTagName(o)[0];a.async=1;a.src=g;m.parentNode.insertBefore(a,m) })(window,document,'script','//www.google-analytics.com/analytics.js','ga'); ga('create', 'UA-72310761-1', 'auto', {'name': 'pacontentapi'}); ga('pacontentapi.set', 'referrer', location.origin); ga('pacontentapi.set', 'dimension1', 'By Josie Clarke, Press Association Consumer Affairs Correspondent'); ga('pacontentapi.set', 'dimension2', '242f7bf1-3bd7-4ed9-a37d-64f0d24331a1'); ga('pacontentapi.set', 'dimension3', 'paservice:finance,paservice:finance:personal-finance,paservice:news,paservice:news:uk'); ga('pacontentapi.set', 'dimension6', 'story'); ga('pacontentapi.set', 'dimension7', 'composite'); ga('pacontentapi.set', 'dimension8', null); ga('pacontentapi.set', 'dimension9', null); ga('pacontentapi.send', 'pageview', { 'location': location.href, 'page': (location.pathname + location.search + location.hash), 'title': 'How much has your energy bill increased?'});
Read Full Story