Prince Charles praises resilience of Salisbury citizens
The Prince of Wales has praised the resilience of the people of Salisbury after the recent Novichok poisonings.
Prince Charles wrote a letter to Sarah Rose Troughton, the Lord Lieutenant of Wiltshire, thanking her and the local community following his visit to the city in June with the Duchess of Cornwall.
Salisbury and the neighbouring town of Amesbury were rocked by the poisonings of former Russian double agent Sergei Skripral, 67, and his daughter Yulia, 33, in March; and Charlie Rowley, 45, and his partner Dawn Sturgess, 44, in June.
Ms Sturgess died eight days after being contaminated by the chemical weapon and counter-terrorism detectives are treating her death as murder.
The mother-of-three's funeral was held at Salisbury Crematorium on Monday afternoon.
Charles and Camilla were greeted by hundreds of people when they visited Salisbury just eight days before Mr Rowley and Ms Sturgess fell ill.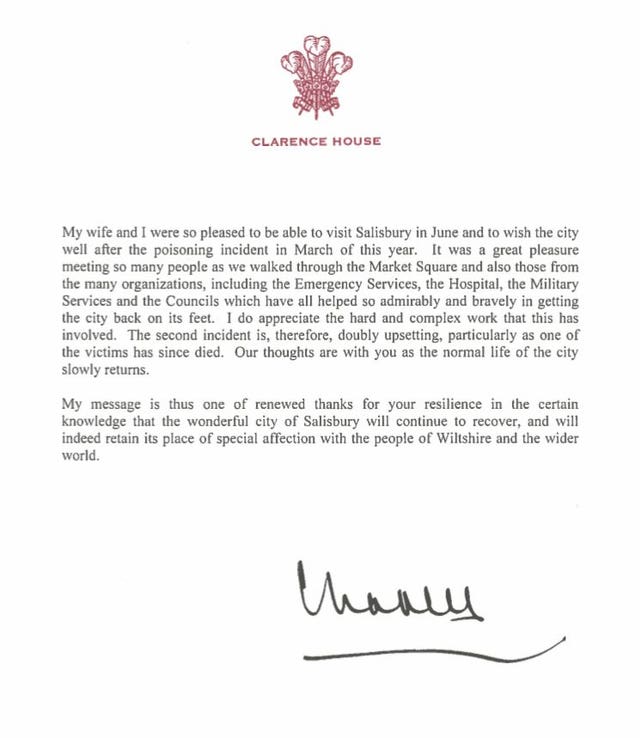 Thanking the city for its welcome, the prince wrote: "My wife and I were so pleased to be able to visit Salisbury in June and to wish the city well after the poisoning incident in March of this year.
"It was a great pleasure meeting so many people as we walked through the Market Square and also those from the many organisations, including the emergency services, the hospital, the military services and the councils which have all helped so admirably and bravely in getting the city back on its feet.
"I do appreciate the hard and complex work that this has involved.
"The second incident is, therefore, doubly upsetting, particularly as one of the victims has since died.
"Our thoughts are with you as the normal life of the city slowly returns.
"My message is thus one of renewed thanks for your resilience in the certain knowledge that the wonderful city of Salisbury will continue to recover and will indeed retain its place of special affection with the people of Wiltshire and the wider world."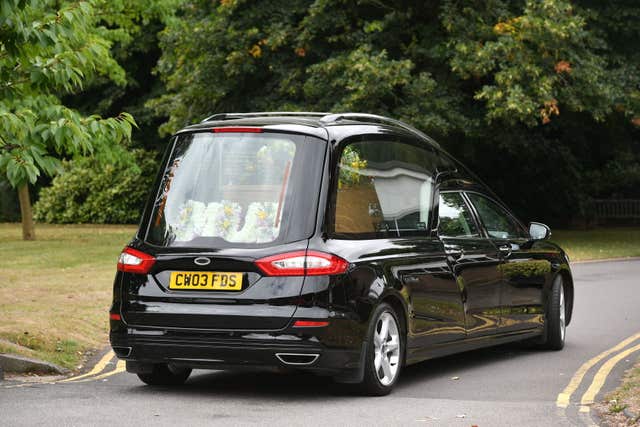 Meanwhile, the town path in Salisbury has reopened to the public but the cordon at Queen Elizabeth Gardens remains in place.
Wiltshire Police said as a "highly precautionary measure" the park was subject of extensive fingertip searches but nothing has been found which has been deemed as "significant" by the investigation team.
Deputy Chief Constable Paul Mills said: "I am pleased to announce that further to a review of the search to date, I have today authorised the reduction of the overall cordon to allow the town path area of the cordon to return back to public use.
"I know the impact of the cordon has impacted significantly upon the local community and I would like to thank the public for their patience during this time.
"Although I am unable to give a definitive time frame for the wider search to conclude, please be reassured that work is progressing with pace at the location and we are committed to keeping the public updated."
Read Full Story