Tributes paid to Battle of Britain Spitfire pilot
The public must never take for granted the freedoms fought for by the Battle of Britain veterans, the son of the youngest surviving Spitfire pilot has said following the 96-year-old's death.
Geoffrey Wellum, who was just 18 when he joined the RAF, died at his home in Cornwall on Wednesday evening.
The decorated airman's son Neil paid tribute to him as a "loving" father who had an "incredible sense of loyalty and duty".
He said the best way to honour his father and his comrades is to ensure their sacrifices are never forgotten.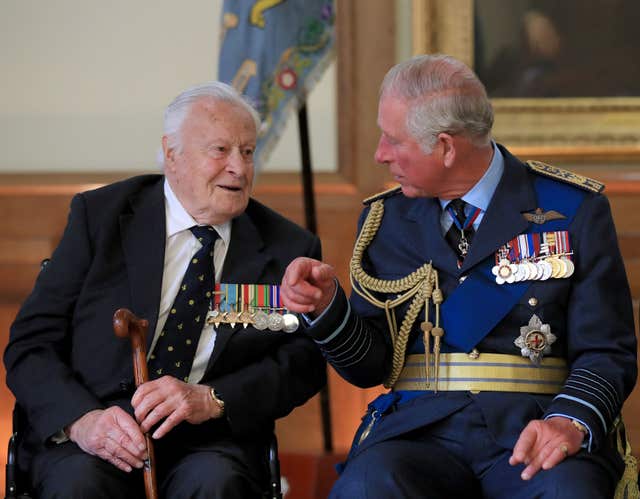 He said: "He and his peers fought for this country's freedom many years ago now and I hope we respect their memory by never, ever taking those freedoms for granted.
"That is the greatest way that we can respect all they did and the efforts that they made."
The former squadron leader served on the front line with 92 Squadron and some of his first combat missions included the "dogfights" above London and the Home Counties for which the Battle of Britain became known.
He went on to be awarded the Distinguished Flying Cross and was promoted to Flight Commander with 65 Squadron and later led eight Spitfires from HMS Furious to relieve Malta.
He was due to turn 97 at the beginning of August, and had been looking forward to the Battle of Britain memorial service at Westminster Abbey the following month, his son said.
The 61-year-old retired civil servant, who lives in Somerset,  said: "He had a wonderful sense of humour, a very positive outlook on life. He was able to see the funny side of himself.
"He had a really strong sense of irony so I'll remember him for that and, like many of his peers, he also had an incredible sense of loyalty and duty and he would just take responsibility for what came his way.
"And that is something that I've seen in so many of them (veterans). And it's very humbling and it's been a privilege in that respect to know him and love him."
Mr Wellum, the youngest surviving member of the "Few", was a "fine, decent and caring man", Battle of Britain Memorial Trust president Sir Stephen Dalton said.
In the 100th anniversary year of the RAF, he said: "In this year of such importance in the history of the Royal Air Force, this is a cruel blow to those of us who knew Geoffrey and our service as well as to the country and of course his family.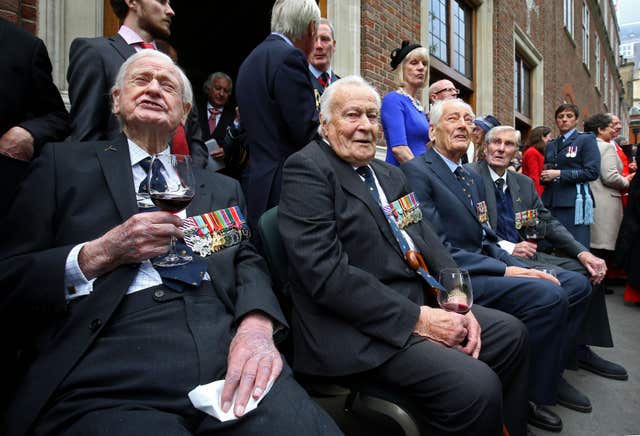 "I have such fond memories of him at the Battle of Britain Memorial at Capel-le-Ferne in Kent, at Northolt, in the RAF Club and at the City Aviators Lunch each year, where he really enjoyed himself and told such moving stories and jokes.
"A fine, decent and caring man whom it was a genuine pleasure and education to know."
The trust's secretary Patrick Tootal said members of the charity's staff and volunteers had been "much saddened by the news".
Speaking in 2013, Mr Wellum told how he was sent out to fly while still in his teens.
"Somebody said, 'Here's a Spitfire - fly it, and if you break it there will be bloody hell to pay'," he said.
"I ended with 146 hours of flying time.
"Looking at my life now, I had peaked at about 21 or 22.
"It was just lovely blokes, all together in Fighter Squadron."
It is understood the Prince of Wales, who is patron of the Battle of Britain Fighter Association and Marshal of the Royal Air Force (RAF), will write to Mr Wellum's family.
Mr Wellum stayed on in the RAF until 1960 and went on to write a best-seller about his experiences in the war - his 2002 memoir First Light.
The book was later adapted into a film for BBC television.
Mr Wellum's death follows that of Wing Commander Tom "Ginger" Neil on July 11.
(function(i,s,o,g,r,a,m){i['GoogleAnalyticsObject']=r;i[r]=i[r]||function(){ (i[r].q=i[r].q||[]).push(arguments)},i[r].l=1*new Date();a=s.createElement(o), m=s.getElementsByTagName(o)[0];a.async=1;a.src=g;m.parentNode.insertBefore(a,m) })(window,document,'script','//www.google-analytics.com/analytics.js','ga'); ga('create', 'UA-72310761-1', 'auto', {'name': 'pacontentapi'}); ga('pacontentapi.set', 'referrer', location.origin); ga('pacontentapi.set', 'dimension1', 'By Ellie Cullen and Aine Fox, Press Association'); ga('pacontentapi.set', 'dimension2', '57835e66-eab5-46a8-9fa2-3866714e8f70'); ga('pacontentapi.set', 'dimension3', 'paservice:news,paservice:news:uk'); ga('pacontentapi.set', 'dimension6', 'story'); ga('pacontentapi.set', 'dimension7', 'composite'); ga('pacontentapi.set', 'dimension8', null); ga('pacontentapi.set', 'dimension9', null); ga('pacontentapi.send', 'pageview', { 'location': location.href, 'page': (location.pathname + location.search + location.hash), 'title': 'Tributes paid to Battle of Britain Spitfire pilot'});
Read Full Story