May: Talks to re-establish Stormont administration must resume
Theresa May has urged the resumption of political talks to resurrect powersharing arrangements in Northern Ireland.
The Prime Minister made the comments in a speech in Belfast to political leaders and the business community.
Rounding off a two-day visit to Northern Ireland, Mrs May expressed disappointment that the region has been without devolved government for more than 18 months.
"It is a matter of frustration and regret that after enjoying the longest period of unbroken devolved government since the 1960s, Northern Ireland has now been without a fully functioning executive for over 18 months," she said.
"I want to see the assembly and the executive back, taking decisions on behalf of all of the people of Northern Ireland. They deserve no less."
The Northern Ireland Assembly collapsed in January last year due to a bitter fallout between the two biggest parties, Sinn Fein and the DUP.
There have been several rounds of talks aimed at restoring devolution, but none have been successful.
Speaking at the Waterfront Hall on Friday, Mrs May told the audience - which included DUP leader Arlene Foster and representatives from the Ulster Unionist Party, SDLP and Alliance - that talks must restart as soon as possible.
Sinn Fein did not attend the event.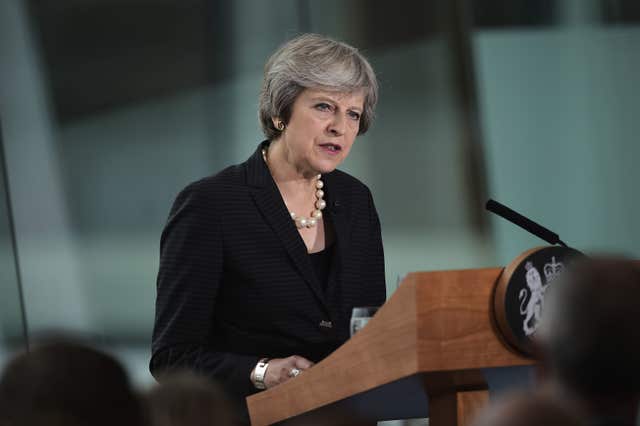 "We continue to do all we can to see the re-establishment of devolution and all of the institutions of the Belfast Agreement," Mrs May said.
"But an agreement cannot be imposed. That needs to come from within Northern Ireland.
"A first step has to be the resumption of political dialogue aimed at finding a solution and that should begin as soon as possible."
She added that "interventions from Westminster are no substitute for decisions taken here".
Mrs May met a Sinn Fein delegation earlier on Friday.
Party president Mary Lou McDonald described their meeting as a "very challenging one", and accused Mrs May of "coming to pick a fight with Ireland and to pick a fight with the European Union".
Protesters from both the victims community and those calling for an Irish language act for Northern Ireland gathered outside the hall ahead of Mrs May's arrival.
They missed their opportunity to confront the Prime Minister as she entered the building through a different door.
However she was earlier taken to task by teenagers from the Belfast Youth Forum during her visit to the Crescent Art Centre.
One boy brought up the confidence and supply arrangement between the DUP and the Conservative Party.
He told her: "I think your coalition infringes people's rights here."
Mrs May replied: "In government, we work for and represent all communities."
She left the art centre to shouts of "Redress now!" from crowds protesting on behalf of victims of state institutional abuse.
(function(i,s,o,g,r,a,m){i['GoogleAnalyticsObject']=r;i[r]=i[r]||function(){ (i[r].q=i[r].q||[]).push(arguments)},i[r].l=1*new Date();a=s.createElement(o), m=s.getElementsByTagName(o)[0];a.async=1;a.src=g;m.parentNode.insertBefore(a,m) })(window,document,'script','//www.google-analytics.com/analytics.js','ga'); ga('create', 'UA-72310761-1', 'auto', {'name': 'pacontentapi'}); ga('pacontentapi.set', 'referrer', location.origin); ga('pacontentapi.set', 'dimension1', 'By By Rebecca Black and Aoife Moore'); ga('pacontentapi.set', 'dimension2', '9dea4d09-1e66-4193-94ca-186ba52cb4e8'); ga('pacontentapi.set', 'dimension3', 'paservice:news,paservice:news:ireland,paservice:news:uk'); ga('pacontentapi.set', 'dimension6', 'story'); ga('pacontentapi.set', 'dimension7', 'composite'); ga('pacontentapi.set', 'dimension8', null); ga('pacontentapi.set', 'dimension9', null); ga('pacontentapi.send', 'pageview', { 'location': location.href, 'page': (location.pathname + location.search + location.hash), 'title': 'May: Talks to re-establish Stormont administration must resume'});
Read Full Story