NI anti-abortion activists warn MPs over Westminster interference
Anti-abortion activists from Northern Ireland have warned MPs that any move to change the region's laws at Westminster would cripple devolution.
Campaigners travelled to London on Wednesday to make clear their opposition to any relaxation of Northern Ireland's strict legal position on terminations.
The group of anti-abortion activists spanned the region's traditional political divide, with a Democratic Unionist Assembly member joining a former Sinn Fein mayor and SDLP councillor to caution against change.
The Government has faced pressure to reform abortion legislation in Northern Ireland amid the ongoing lack of devolved government. The calls for change intensified after Supreme Court judges said the current laws were incompatible with human rights legislation.
Downing Street has maintained its view that the issue should be dealt with by a restored devolved Assembly.
The trip to London was organised by campaign group Both Lives matter.
Co-founder of the organisation Dawn McAvoy said: "We would urge British MPs to respect the people of Northern Ireland and our elected representatives. Our current law provides proper protection for both the mother and the unborn baby and we've found that many women have no desire for that law to be changed."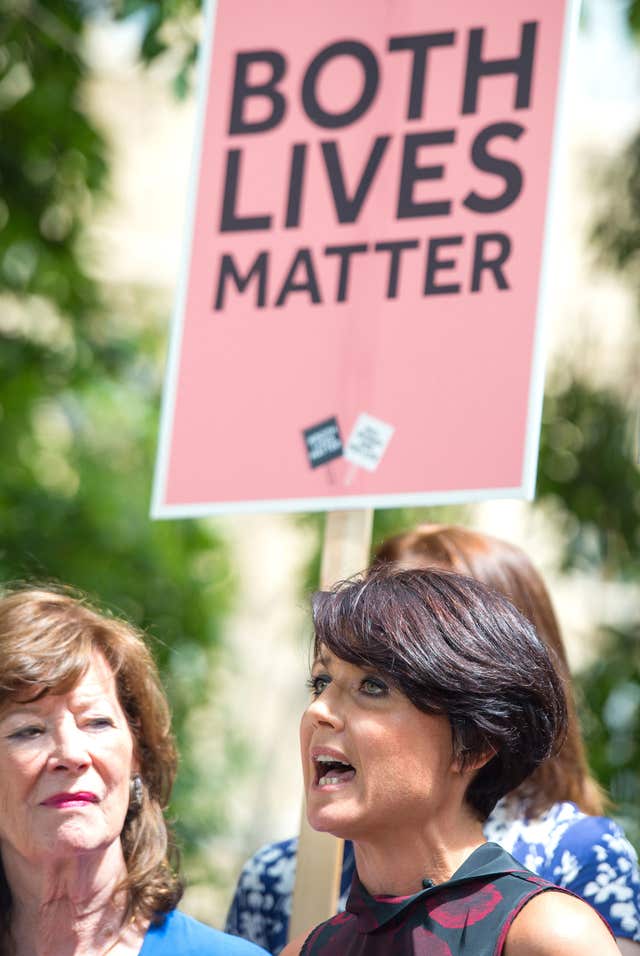 Carla Lockhart, DUP Stormont Assembly Member for Upper Bann, said: "I have constituents who are deeply concerned at the prospect of abortion on demand being foisted on Northern Ireland.
"Any move to liberalise our abortion laws through Westminster would be unreasonable and disrespectful to the democratic process in Northern Ireland. Such significant change would undermine the principle of devolution.
"It would be short-sighted and foolish in the extreme to take advantage of the current political complexities at Stormont to impose such controversial legislation over our heads."
Ann Brolly, a former Sinn Fein mayor of Limavady who quit the party in protest at moves to liberalise its stance on abortion, also attended the event.
"The devolved administration in the north of Ireland was hard won and is currently very fragile," she said.
"If MPs are serious about respecting it then they will not legislate above the heads of our elected representatives.
"All across the north there are many women, of different political persuasions who do not want this sort of imposition and I would strongly urge MPs to listen to the views expressed today."
SDLP councillor Roisin Lynch was also among those who attended.
Unlike other parts of the UK, the 1967 Abortion Act does not extend to Northern Ireland.
Abortion is illegal except where a woman's life is at risk or there is a permanent or serious danger to her mental or physical health. Anyone who unlawfully carries out an abortion could be jailed for life.
The Northern Ireland Assembly voted in February 2016 against legalising abortion in cases of fatal foetal abnormality and rape or incest.
Pro-choice advocates demanded action after a majority of Supreme Court judges last month said the ban on terminations in cases of rape, incest or fatal foetal abnormality needed "radical reconsideration".
The campaigners are attempting to harness momentum they believe has been generated by the Irish Republic's historic referendum vote to liberalise the abortion regime south of the border.
Anti-abortion activists insist the matter should only be determined by Stormont politicians.
While a majority of Supreme Court judges expressed a view that the current regime is incompatible with the European Convention on Human Rights (ECHR), they did not go so far as to make a formal declaration of incompatibility - a move that would probably have forced a law change.
That was essentially a legal technicality - a majority of judges ruled the organisation that brought the case did not have the authority to do so - and it did little to dampen calls for the Government to intervene and legislate in Northern Ireland amid the absence of devolved ministers due to the powersharing impasse in Belfast.
(function(i,s,o,g,r,a,m){i['GoogleAnalyticsObject']=r;i[r]=i[r]||function(){ (i[r].q=i[r].q||[]).push(arguments)},i[r].l=1*new Date();a=s.createElement(o), m=s.getElementsByTagName(o)[0];a.async=1;a.src=g;m.parentNode.insertBefore(a,m) })(window,document,'script','//www.google-analytics.com/analytics.js','ga'); ga('create', 'UA-72310761-1', 'auto', {'name': 'pacontentapi'}); ga('pacontentapi.set', 'referrer', location.origin); ga('pacontentapi.set', 'dimension1', 'By David Young, Press Association'); ga('pacontentapi.set', 'dimension2', 'f62b17c4-7d4f-4ee3-9886-7ba89b84126b'); ga('pacontentapi.set', 'dimension3', 'paservice:news,paservice:news:ireland,paservice:news:uk'); ga('pacontentapi.set', 'dimension6', 'story'); ga('pacontentapi.set', 'dimension7', 'composite'); ga('pacontentapi.set', 'dimension8', null); ga('pacontentapi.set', 'dimension9', null); ga('pacontentapi.send', 'pageview', { 'location': location.href, 'page': (location.pathname + location.search + location.hash), 'title': 'NI anti-abortion activists warn MPs over Westminster interference'});
Read Full Story