Twin Pioneer plane to be converted into holiday home
A Twin Pioneer plane is returning to duty almost 60 years after it was built - but this time it is to become an unusual holiday home.
The 1960s aircraft had been used by a pilot training centre, but Stirling farmer Martyn Steedman bought it and plans to convert it into glamping accommodation to sit alongside a former Royal Navy Sea King that he transformed two years ago.
The Twin Pioneer had its wings removed in order to be transported to Mains Farm in Thornhill where it will be reassembled by Mr Steedman before a kitchen and bathroom is fitted inside.
He said: "G-APRS, or Primrose as she is affectionately known by those who flew her, was one of the last flying Twin Pioneers in the world.
"She faithfully served on civilian and military missions for nearly 50 years, before being retired because of her ageing wing struts. We're delighted to be bringing her back home to Scotland where we'll convert her into a first-class glamping experience.
"We're sure that like our Sea King she'll attracts tourists and aviation enthusiasts alike, which is great news for the rural economy and local jobs."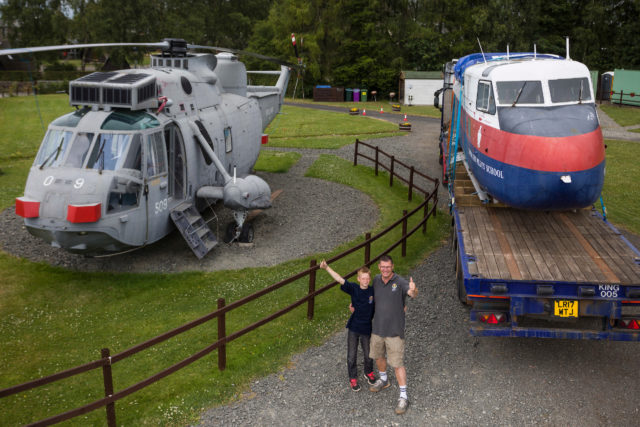 Designed and built in Prestwick, Twin Pioneers were said to be Scotland's most successful and recognisable aircraft of the era used for civilian and military duties.
Their unique high wing design meant they were able to take off and land within small areas.
The aircraft still has 14 passenger seats inside which will be replaced by a bedroom but its cockpit will remain for visitors to check out.
Mr Steedman said: "We'll be drawing on our experience of converting the helicopter and preserving as much of the interior as possible for future generations to enjoy, including the stunning two-seater cockpit.
"Primrose will turn 60 next year, so we're hoping to get her into tip top shape for her big birthday.
"We'd love to track down the team who built her and involve them in her transformation."
VisitScotland regional director Neil Christison has praised the unique camping site.
He said: "It is great to see such a unique accommodation option being created for visitors to Scotland.
"Mains Farm is a fantastic example of a tourism business thinking outside of the box to create a special holiday experience nestled in Stirlingshire's stunning countryside.
"Tourism is the heartbeat of the Scottish economy, causing a ripple effect which touches every industry and community, creating employment and economic growth."
Read Full Story
Click here to comment