Political leaders unite to condemn attacks on police in Londonderry
The leaders of all of the main political parties have united to condemn attacks on the police amid ongoing unrest in Londonderry.
In a fourth night of violence, six shots were fired at officers close to the city's famous walls.
None of the officers were injured and the bullets were found both in the walls themselves and nearby trees.
Around 16 petrol bombs and five paint bombs were also thrown close to the walls and at police patrols.
Now the DUP, Sinn Fein, Ulster Unionists, SDLP and Alliance have issued a rare joint statement condemning the attacks and calling for an end to the violence.
They said: "Attacks on the police have been ongoing for a number of days alongside other violence including sectarian attacks on houses, petrol bombs thrown at the police, intimidation of contractors, vehicles hi-jacked and attacks on sheltered accommodation.
"The shots fired last night were a clear and obvious attempt to murder police officers. There must be a strong, clear and united voice against those who would engage in such disgraceful violence.
"As a society we must all stand with those who maintain law and order and who protect all sides of our community.
"We condemn any illegal activity and urge those who are damaging their own community and intimidating their neighbours to stop.
"We would urge people to work with the police to bring those involved in criminality to justice.
"We want to see a society where people can live together without the threat of intimidation or violence.
"Those who engage in such tactics must be shown that they will not succeed."
Chief Inspector Neil Beck said previously: "Police officers should not be targeted under any circumstances and their lives should not be put in danger by simply doing their jobs, attempting to keep people safe.
"I am appealing to those with influence in the area to please assist us in trying to bring this unnecessary and unwanted violence to an end.
"This isn't wanted by the community and those involved are urged to cease this activity immediately."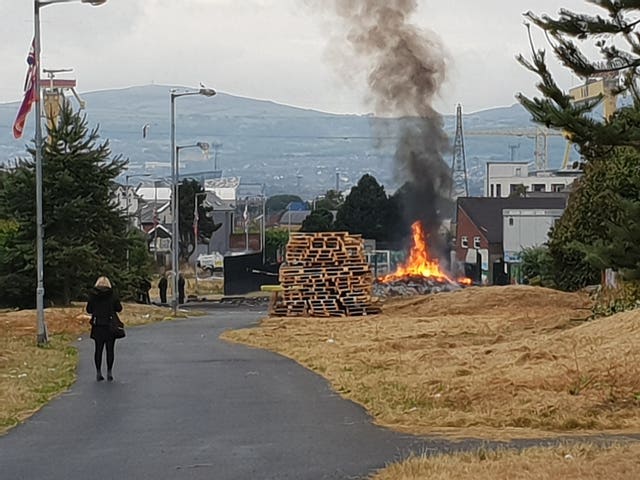 Elsewhere, a controversial loyalist bonfire that a High Court judge had ordered to be reduced in size was torched in the early hours of Wednesday morning instead of waiting for the Eleventh Night.
The Bloomfield Walkway bonfire in east Belfast was one of hundreds across Northern Ireland due to be burned late on Wednesday night as part of the annual Battle of the Boyne commemorations.
But it was deemed to pose a threat to surrounding houses because it was too tall - prompting loyalist youths to set light to it almost 24 hours early.
A number of men have been charged with public order offences in connection with the disorder in recent days.
Mr Beck said he is confident that further arrests can be made.
The Police Federation for Northern Ireland (PFNI) described the shots fired in Londonderry as "an act of pure evil".
PFNI chairman Mark Lindsay said officers deserve the support of the entire community.
"Shots fired at our officers show the clear intent of those who have been orchestrating days of petrol bombing and assaults in Derry/Londonderry.
"The young people used to assault officers are being callously and coldly used by the dissident republican murder gangs who have murder as their main objective.
"This attack last night was an act of pure evil, and attacks like this have got to stop.
"We have to see an all-out effort being made to rid communities of these 'dinosaurs' and to allow people to get on with their lives."
Read Full Story