Criminal gangs using Facebook in £6bn people smuggling trade
People smugglers are exploiting Facebook to peddle their deadly £6 billion trade, a senior National Crime Agency officer has said.
Social media giants should be using their collective "brain power" to combat the problem, according to NCA deputy director Tom Dowdall.
Increasingly sophisticated criminal gangs set up Facebook pages to ply their business by appearing "reliable and safe".
But migrants, who pay thousands of euros, are forced on to dangerous crossings, threatened at knifepoint, and subjected to sexual abuse and rape, Mr Dowdall said.
He told the Press Association: "Social media is really important to organised crime networks, offering their services to people across the Mediterranean, so offering their vessels to people.
"They are highlighting how reliable and safe they are when they are anything but reliable and safe.
"It's really an important part of the marketplace that organised crime networks set up.
"Facebook is prevalent but there are other internet service providers, platforms and social media platforms that are used as well.
"We think there is an awful lot more that the technology companies and internet providers like Facebook and others can and should be doing in order to prevent criminals and crime networks from being able to advertise and communicate their activities.
"We believe there is an awful lot more they can do given the tech power and brain power that they have to resolve and solve these problems."
The criminal networks generate profits up of to £6 billion a year and have remained "resilient" in spite of the closure of the Calais camps, Mr Dowdall said.
While the volume of migrants being brought across the Mediterranean in boats has dropped, the death toll and human misery continues.
He said: "Even though the numbers coming through the central Mediterranean routes from Libya to Italy and Malta have fallen since last year by about 75%, that's not matched by the number of deaths which have continued to remain high.
"Even last week, we know of 300 deaths in the Mediterranean where people are still prepared to risk these very dangerous crossings.
He added: "Migrants are subjected to all sorts of horrendous experiences and abuse en route on their journey.
"We know for example where people are threatened at gunpoint to put themselves in dangerous situations in vessels or a vehicle which they know to be dangerous but they are forced into it.
"They are often beaten if they do not obey. They will be threatened quite routinely at knifepoint to do as the smugglers tell them to do.
"We know women have been separated from men and children where they are then subjected to sexual abuse and rape.
"All along the journey they are exploited and subjected to pretty horrendous experiences."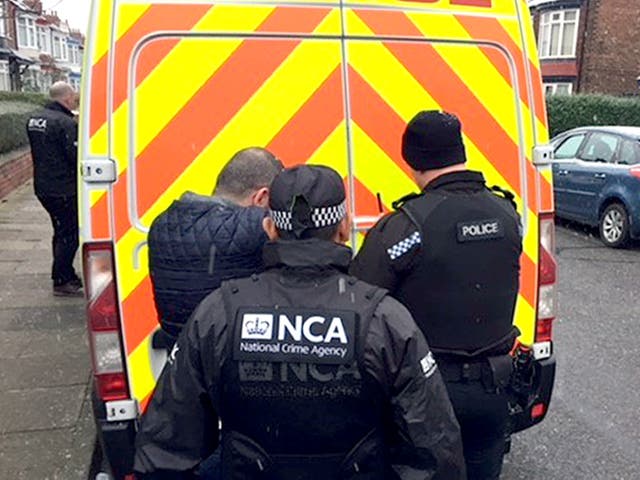 An NCA-led taskforce has been targeting the smugglers operating in the Mediterranean and the UK borders.
The networks work hard to exploit any weaknesses along the route, Mr Dowdall said.
"The organised crime networks are smuggling people into the UK particularly through short sea crossings, the cross-Channel ports from northern France into the UK."
They try to "get lost" in the sheer volume of traffic through the port of Calais, Mr Dowdall said.
They are "highly dependent" on truck drivers to carry migrants across from France and Belgium, he said: "They are the lifeblood of what organised crime groups need and can access in order to be able to transport migrants."
A briefing at NCA headquarters in London gave recent examples of how law enforcement agencies have smashed operations across Europe.
In one case, people from Syria, Iraq and Pakistan were found in squalid conditions in caves in Crete, after paying 4,000 euros to travel to the UK and other European countries.
Read Full Story