Baby scan held aloft in Commons as MPs push for proxy voting
An SNP politician held up a scan of his unborn baby as he pressed for MPs to vote by proxy in the Commons after the birth of a child.
David Linden joined colleagues in criticising the Government's decision to drop a debate on the principle of proxy voting, considered as part of a baby leave system for MPs.
The decision was taken to prevent the discussion being curtailed after extra business emerged.
It was scheduled to run until 2.30pm on Thursday but was only left with around 60 minutes due to an urgent question and two ministerial statements being added, including on the Amesbury poisoning.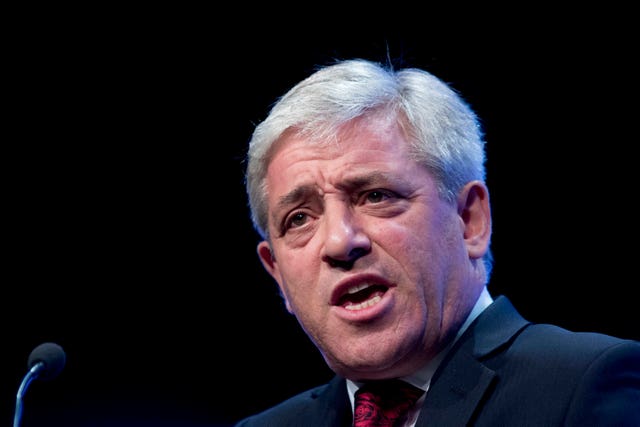 Glasgow East MP Mr Linden said: "This is my daughter to be born in the autumn, so I'm particularly keen to see this be put in place as soon as possible."
Speaker John Bercow said he would prefer the Government to table a motion to allow MPs to decide whether or not to proceed with proxy voting before the summer recess, adding: "It would be perfectly possible for that to happen but it's for others to determine whether it shall."
Charles Walker, Conservative chairman of the Procedure Committee, earlier said more than five months have passed since the Commons backed a non-binding motion to enable MPs to vote by proxy after they have had a baby or adopted a child.
He added his committee published its report on the issue in May, noting: "I am a man of great patience, but babies aren't as patient as I am and there are a number of colleagues who are expecting to give birth in the next few weeks who were rather hoping we'd get on to this business, if not today, perhaps next week."
Conservative Maria Miller, chairwoman of the Women and Equalities Committee, urged the Government to reschedule the debate as soon as possible.
She said: "Time waits for no pregnant woman - and I can see a bump over there (Holly Lynch, Labour MP for Halifax) that is significantly bigger than it was five months ago."
SNP MP Alison Thewliss (Glasgow Central) said: "This is absolutely ridiculous - that people have come here in good faith to debate baby leave, a very important thing on which time is pressing."
She asked if the debate will occur before the summer recess, which begins once business concludes on July 24, adding: "How many more babies have to be born to members of this House before we start getting some modern practices in place to take care of those women and those babies?"
The concerns were raised via a series of points of order.
Commons Leader Andrea Leadsom replied: "Nobody is more disappointed than I am that we've not been able to carry on with this debate.
"I've always made absolutely clear my 100% commitment to the vital importance of a secure early bond between parents and their babies."
Mrs Leadsom said her speech for the debate would have sought to "open up" the discussion on the issue, including asking MPs about how best to handle proxy voting and avoid unintended consequences.
She went on: "Unfortunately the events in Wiltshire meant the Home Secretary couldn't get here before the end of Cobra to make his statement and unfortunately that led to us having insufficient time to properly air the issues under discussion.
"It's absolutely my intention to bring that debate back as soon as possible."
(function(i,s,o,g,r,a,m){i['GoogleAnalyticsObject']=r;i[r]=i[r]||function(){ (i[r].q=i[r].q||[]).push(arguments)},i[r].l=1*new Date();a=s.createElement(o), m=s.getElementsByTagName(o)[0];a.async=1;a.src=g;m.parentNode.insertBefore(a,m) })(window,document,'script','//www.google-analytics.com/analytics.js','ga'); ga('create', 'UA-72310761-1', 'auto', {'name': 'pacontentapi'}); ga('pacontentapi.set', 'referrer', location.origin); ga('pacontentapi.set', 'dimension1', 'By Richard Wheeler, Press Association Parliamentary Editor'); ga('pacontentapi.set', 'dimension2', '91416f83-d63d-4614-8553-95ede43760a9'); ga('pacontentapi.set', 'dimension3', 'paservice:news,paservice:news:uk'); ga('pacontentapi.set', 'dimension6', 'story'); ga('pacontentapi.set', 'dimension7', 'composite'); ga('pacontentapi.set', 'dimension8', null); ga('pacontentapi.set', 'dimension9', null); ga('pacontentapi.send', 'pageview', { 'location': location.href, 'page': (location.pathname + location.search + location.hash), 'title': 'Baby scan held aloft in Commons as MPs push for proxy voting'});
Read Full Story