Charles meets medics who treated IRA bomb victims at Omagh Hospital
The Prince of Wales has met medics who treated victims of one of the biggest mass killings of the Northern Ireland conflict.
Twenty-nine people died when a Real IRA device exploded in the busy Co Tyrone market town of Omagh in August 1998.
Charles toured Omagh Hospital and Primary Care Complex, which opened a year ago, on Wednesday.
Two decades ago he visited the old hospital, which was at the centre of the emergency response following the blast.
Later on Wednesday, the prince was meeting relatives of those who died in the dissident republican car bombing.
Joann McCullagh was a staff nurse in the intensive care ward the day of the attack and said she worked at the "coal face".
She told Charles about her role.
"We worked tirelessly throughout the day and night, dealing with the very traumatically injured patients," she said.
"The relatives were also looking for their loved ones.
"We as a group of people worked very closely together to support each other in the dark days that followed."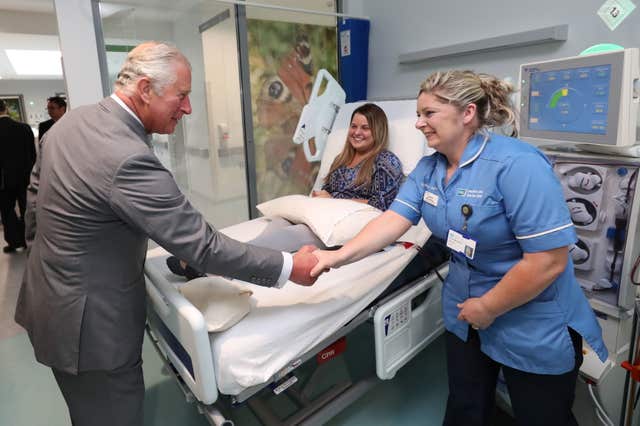 At the hospital, the prince also met palliative care patients and Eamie Gormley, who is undergoing kidney dialysis, and they discussed the length of time the procedure took.
Charles asked her if "copious" cups of tea were available during the long wait.
He was greeted by cheering healthcare workers as he walked around.
West Tyrone MP Orfhlaith Begley and DUP leader Arlene Foster was among those who greeted the prince.
Mrs Foster said she was pleased that Charles was meeting the Omagh bomb relatives.
He unveiled a plaque marking the official hospital opening and expressed admiration for all the staff.
(function(i,s,o,g,r,a,m){i['GoogleAnalyticsObject']=r;i[r]=i[r]||function(){ (i[r].q=i[r].q||[]).push(arguments)},i[r].l=1*new Date();a=s.createElement(o), m=s.getElementsByTagName(o)[0];a.async=1;a.src=g;m.parentNode.insertBefore(a,m) })(window,document,'script','//www.google-analytics.com/analytics.js','ga'); ga('create', 'UA-72310761-1', 'auto', {'name': 'pacontentapi'}); ga('pacontentapi.set', 'referrer', location.origin); ga('pacontentapi.set', 'dimension1', 'By Michael McHugh, Press Association'); ga('pacontentapi.set', 'dimension2', '3cc1f756-4be9-4674-8874-5bdfd4e3b3d6'); ga('pacontentapi.set', 'dimension3', 'paservice:news,paservice:news:uk'); ga('pacontentapi.set', 'dimension6', 'story'); ga('pacontentapi.set', 'dimension7', 'composite'); ga('pacontentapi.set', 'dimension8', null); ga('pacontentapi.set', 'dimension9', null); ga('pacontentapi.send', 'pageview', { 'location': location.href, 'page': (location.pathname + location.search + location.hash), 'title': 'Charles meets medics who treated IRA bomb victims at Omagh Hospital'});
Read Full Story