New motorcycle pays tribute to Flying Flea used by British paratroopers
A model of motorbike dropped behind enemy lines and used by British paratroopers during the Second World War has been commemorated with the launch of a new limited edition.
Royal Enfield manufactured the lightweight RE/WD 125 'Flying Flea' during the conflict, with the War Department ordering more than 4,000 of them.
They were dropped in by parachute within protective cages, boosting the mobility of elite troops and allowing them to relay messages more rapidly.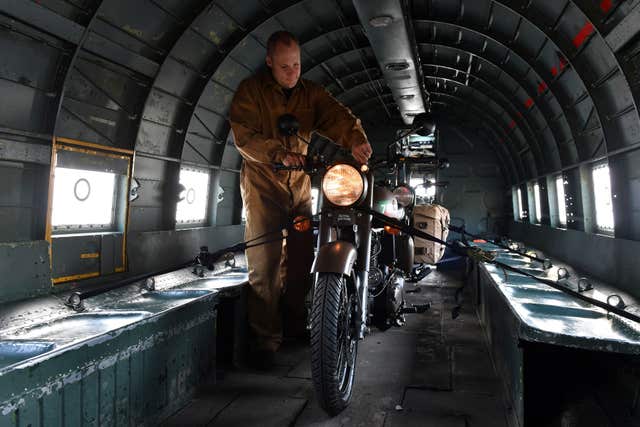 The rugged motorbikes were used on D-Day and during Operation Market Garden in 1944, a daring Allied attempt to shorten the war by entering Germany from Holland over a series of captured bridges.
Now Royal Enfield has produced a limited edition motorcycle in tribute to the Flying Flea.
The new Classic 500 Pegasus motorbike is inspired by the Flying Flea, that was produced at Royal Enfield's underground facility in Westwood, Wiltshire.
It is described as an homage to the original, and bears many of the same paint markings.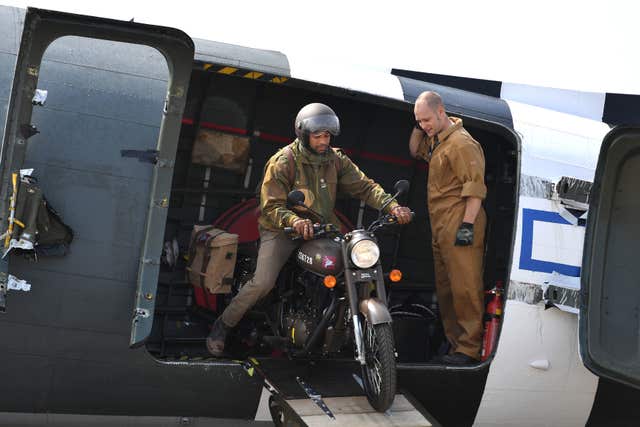 The new motorcycle was launched with an aerial display from the Army's Red Devils parachute display team.
The 10 paratroopers leapt from a Dakota C47 military transport plane above Imperial War Museum Duxford near Cambridge on Monday, then posed for photos with an original Flying Flea and a new Classic 500 Pegasus.
The launch event was attended by veterans including 92-year-old Fred Glover, who was just 17 when he joined the 9th Parachute Battalion during the Second World War.
He was wounded while in a glider landing in Normandy and was taken as a prisoner of war until he managed to escape from a hospital.
He returned to the battalion and later saw action in the Battle of the Bulge, fighting against the last major German offensive of the war on the Western Front, and the Rhine crossing.
Looking at the Dakota C47 plane used by the Red Devils display team, Mr Glover said: "I wish I was in there, actually.
"Of course I've done parachuting before but of course the 'chutes these days are much more elaborate.
"All you could do then was move left and right-hand turns."
Siddhartha Lal, chief executive of Royal Enfield, said: "The story of the Flying Flea is both remarkable and inspiring, and it has a history like no other motorcycle."
He said the Classic 500 Pegasus is "an homage to the legendary war stories and to the resilience and pedigree of Royal Enfield".
Read Full Story
Click here to comment