Figures show first fall in number of EU nationals working in UK since 2010
The number of EU nationals working in the UK has registered an annual fall for the first time in eight years, official figures reveal.
There were an estimated 2.29 million overseas employees from the bloc in the first three months of this year.
This was 28,000 fewer than the equivalent period of 2017, and marks the first year-on-year decrease since January to March 2010.
Labour market data released by the Office for National Statistics showed the fall was driven by a steep drop in the number of workers from the eight eastern European countries that joined the EU in 2004.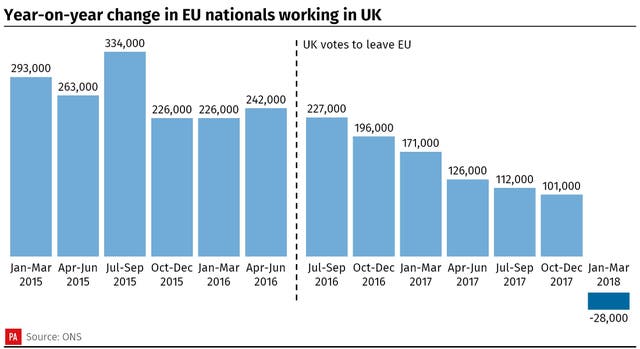 In the latest period, there were an estimated 917,000 nationals of the so-called EUA8 countries - Czech Republic, Estonia, Hungary, Latvia, Lithuania, Poland, Slovakia and Slovenia - in work in the UK.
This was down by 91,000 compared to January-March in 2017, the largest annual decrease since comparable records started in 1997.
Jonathan Portes, professor of Economics at King's College London, said: "Today's labour market statistics show a year-on-year fall in the number of European nationals working here, for the first time since the aftermath of the recession.
"A combination of factors - a slowing economy here combined with recovery on the continent, but also the political and psychological impact of the Brexit vote - have made the UK a significantly less attractive place to live and work."
The year-on-year dip in EUA8 workers was not mirrored across other groups of member states.
There were 355,000 Romanians and Bulgarians employed in the UK between January and March, up from an estimated 297,000 in the first three months of last year.
It is the second highest figure recorded since restrictions on citizens of the two countries working in Britain were lifted in January 2014.
The number of nationals of 14 long-term EU member states including Germany, Italy, Spain and France also showed a slight increase - but remained at just over one million.
Government officials are working to draw up post-Brexit arrangements which incorporate an end to free movement rules while ensuring that any fall in overseas labour does not damage the economy.
Analysis published last year showed EU migrants account for as many as one in 10 employees in some sectors.
The figures released on Tuesday also show a rise in the number of overseas workers from the rest of the world.
There were 1.25 million non-EU nationals working in the UK in January to March, 20,000 more than a year earlier.
Statisticians say the estimates relate to the number of people in employment and should not be used as a proxy for flows of foreign migrants into the country.
(function(i,s,o,g,r,a,m){i['GoogleAnalyticsObject']=r;i[r]=i[r]||function(){ (i[r].q=i[r].q||[]).push(arguments)},i[r].l=1*new Date();a=s.createElement(o), m=s.getElementsByTagName(o)[0];a.async=1;a.src=g;m.parentNode.insertBefore(a,m) })(window,document,'script','//www.google-analytics.com/analytics.js','ga'); ga('create', 'UA-72310761-1', 'auto', {'name': 'pacontentapi'}); ga('pacontentapi.set', 'referrer', location.origin); ga('pacontentapi.set', 'dimension1', 'By Hayden Smith, Press Association Home Affairs Correspondent'); ga('pacontentapi.set', 'dimension2', '3cc86809-f3d0-44a7-bc78-8d6504b61462'); ga('pacontentapi.set', 'dimension3', 'paservice:news,paservice:news:uk'); ga('pacontentapi.set', 'dimension6', 'story'); ga('pacontentapi.set', 'dimension7', 'composite'); ga('pacontentapi.set', 'dimension8', null); ga('pacontentapi.set', 'dimension9', null); ga('pacontentapi.send', 'pageview', { 'location': location.href, 'page': (location.pathname + location.search + location.hash), 'title': 'Figures show first fall in number of EU nationals working in UK since 2010'});
Read Full Story