Unions concerned about steel tariffs despite US delay
Unions have voiced fresh concerns about the threat of US tariffs on steel products despite the announcement of a 30-day delay in bringing in the measure.
President Donald Trump was set to decide whether exemptions on steel and aluminium tariffs would continue for the European Union and US allies after a self-imposed deadline passed on Tuesday.
The White House announced a delay on the decision for 30 days for exports from EU countries, Canada and Mexico, while an agreement in principle was reached with South Korea, Argentina, Australia and Brazil.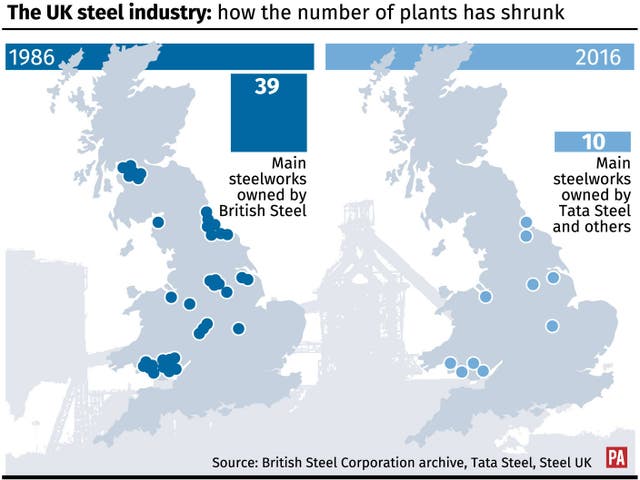 The Department for International Trade called the temporary exemption "positive" and said it would continue to work towards making it permanent.
British manufacturers and unions have spoken out about the potential damage for UK firms and jobs since the 25% tariff on steel and 10% tariff on aluminium were mooted by Mr Trump in March.
Roy Rickhuss, general secretary of steelworkers' union Community, said the extension did not resolve the problems created by the prospect of tariffs.
"We will still need defence measures needed against the displacement of steel that the US policy will generate.
"There is also now some discussion about the US placing quotas on steel imports instead of tariffs.
"A policy of quotas could be just as damaging to UK and EU steel exporters and any proposals need to be carefully examined."
Unite national officer Tony Brady said: "There must be a global solution that deals with countries responsible for overcapacity and the dumping of cheap steel and aluminium.
"Trump is playing misguided games and it is clear the Prime Minister and International Trade Secretary Liam Fox now count for little in Washington. A 30-day respite from punitive tariffs, whilst welcome, is not the answer. UK steelworkers and steel producers are not the villains."
Gareth Stace, director of trade body UK Steel, said: "As the exemption deadline edged ever closer with no sign of a deal being struck, we had increasingly been expecting the worst and the immediate introduction of tariffs.
"A further extension to the EU exemption gives us a little more breathing room to continue discussions and find a way through the current impasse to reach a permanent agreement that works for all parties.
"However, this extension comes with a health warning - 30 days does not give us much time and all signs point towards a US insistence on the restriction of steel exports by its allies. Such an outcome would be viewed in a dim light by many here; indeed for some it could have a greater impact than tariffs alone."
A Government spokesman said: "It is positive that the UK has been granted a further exemption to these tariffs.
"We will continue to work closely with our EU partners and the US government to achieve a permanent exemption, ensuring our important steel and aluminium industries are safeguarded.
"We remain concerned about the impact of these tariffs on global trade and will continue to work with the EU on a multilateral solution to the global problem of overcapacity, as well as to manage the impact on domestic markets."
Introducing the tariffs, Mr Trump said his country's industries had been "decimated by decades of unfair trade and bad policy with countries from around the world", adding that trade wars were "good... and easy to win".
Three weeks later, the White House announced temporary exemptions for the EU while negotiations continued.
In the run-up to the May 1 deadline, the UK was engaged in last-ditch efforts to prevent the tariffs from being introduced.
Dr Fox said placing the tariff on UK exports would be "illogical" because some of the specialist products sold to the US are destined for the American military.
(function(i,s,o,g,r,a,m){i['GoogleAnalyticsObject']=r;i[r]=i[r]||function(){ (i[r].q=i[r].q||[]).push(arguments)},i[r].l=1*new Date();a=s.createElement(o), m=s.getElementsByTagName(o)[0];a.async=1;a.src=g;m.parentNode.insertBefore(a,m) })(window,document,'script','//www.google-analytics.com/analytics.js','ga'); ga('create', 'UA-72310761-1', 'auto', {'name': 'pacontentapi'}); ga('pacontentapi.set', 'referrer', location.origin); ga('pacontentapi.set', 'dimension1', 'By Alan Jones and Alexander Britton, Press Association'); ga('pacontentapi.set', 'dimension2', '6c56e4f0-d973-44ed-9f89-a14fa42cda8d'); ga('pacontentapi.set', 'dimension3', 'paservice:finance,paservice:finance:city,paservice:news,paservice:news:uk'); ga('pacontentapi.set', 'dimension6', 'story'); ga('pacontentapi.set', 'dimension7', 'composite'); ga('pacontentapi.set', 'dimension8', null); ga('pacontentapi.set', 'dimension9', null); ga('pacontentapi.send', 'pageview', { 'location': location.href, 'page': (location.pathname + location.search + location.hash), 'title': 'Unions concerned about steel tariffs despite US delay'});
Read Full Story
Click here to comment