Family of Briton killed in the Gambia seek Boris Johnson's help over court case
The sister of a man stabbed to death by a burglar in the Gambia fears his killer could walk free amid a court "shambles" that has seen the case adjourned 44 times.
Briton Jack Kenley was repeatedly knifed by an intruder as he was waking up at his home in Kotu in August 2015.
His accused killer was found hiding behind a door and told police he had murdered the 52-year-old as he searched for money to steal.
Court proceedings have been dogged by delays and, almost three years later, Mr Kenley's sister Elaine Kellett, 52, from Maidstone, Kent, fears she may never get justice.
Calling on Foreign Secretary Boris Johnson to intervene, she said: "My brother was stabbed to death in his own home yet we have been waiting three years for justice and there is no sign of that happening any time soon.
"After fighting for justice for this long and experiencing over 44 adjournments to my brother's case, I am calling on Boris Johnson to step in and help us. Jack was a British citizen but it feels like he has been forgotten and there is a very real chance that his killer could walk free.
"He admitted killing my brother but that was deemed inadmissible, and he is suddenly considered a child despite saying that he was 18 to officers when he was arrested.
"It is a shambles and the state prosecutor seems unwilling to appeal either of those things. That is why I am begging Mr Johnson to look at the case and see if there is anything he can do to help."
During the court proceedings, the accused killer's "confession" has been deemed inadmissible and there has been confusion over his age.
At first he told police that he was 18 but later a bone test suggested he is 17 and should therefore be tried as a child. Lawyers for Mr Kenley's family want a second, independent test carried out to check the result.
Father-of-four Mr Kenley was living in Bedfont, West London, when was he was introduced to a Gambian woman, Fatou Sarjo Kenley, and the pair married.
In 2009 he moved to the Gambia to be with her and Mr Kenley and his wife, who was working for the country's armed forces, had their own home built on land in Kotu.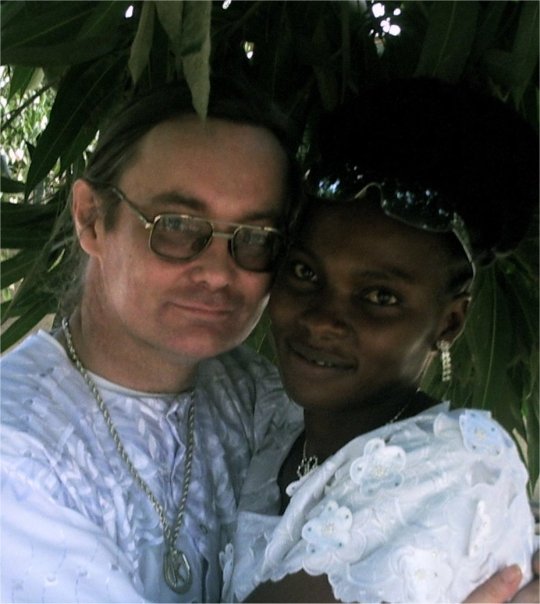 Mrs Kellett said: "They were both madly in love and Jack was happier than I have ever seen him. He questioned whether moving to The Gambia was the right thing to do but, as far as I could see, it was. She is funny, strong and he just really loved everything about her."
She in part blames herself for her brother's death as she sent him a text message on the morning he died and fears the sound may have woken him and caused the killer to strike.
Mrs Kellett said: "My brother liked sleeping in and I texted him about 11am Gambian time. I later found out that that was when he was murdered.
"I can't help but think that my text message woke him up and then he saw the killer in his room, which resulted in him stabbing Jack to death. I could have been the reason that my brother lost his life and that thought haunts me."
It was Fatou's adopted daughter Isatou who called Elaine to break the news that her brother had been stabbed.
Remembering the moment that she was told her brother, who had 13 grandchildren, had died, she said: "We had a call to say he was out of surgery and that he was asking for a cigarette. As a result, we all assumed he was going to be all right.
"The next thing I knew I was getting a call from Fatou to say that he had died. I dropped the phone as I was in such a state of shock.
"Moments before he passed away he said to send his love to me, our mum and our dad. Fatou was crying down the phone and I couldn't say anything as I was so devastated."
Since then, she has been fighting to make sure that her brother's accused killer faces trial.
The family's lawyer Magdalena Knez, from Slater and Gordon, said: "Mr Kenley was brutally killed in his own home and his alleged killer caught at the scene with the murder weapon.
"Yet, three years on, Mr Kenley's family are still seeking answers about what happened and justice for his murder. We echo Mrs Kellett's call for the Foreign Office to taking a more active role to get this case heard and achieve justice for the family."
(function(i,s,o,g,r,a,m){i['GoogleAnalyticsObject']=r;i[r]=i[r]||function(){ (i[r].q=i[r].q||[]).push(arguments)},i[r].l=1*new Date();a=s.createElement(o), m=s.getElementsByTagName(o)[0];a.async=1;a.src=g;m.parentNode.insertBefore(a,m) })(window,document,'script','//www.google-analytics.com/analytics.js','ga'); ga('create', 'UA-72310761-1', 'auto', {'name': 'pacontentapi'}); ga('pacontentapi.set', 'referrer', location.origin); ga('pacontentapi.set', 'dimension1', 'By Margaret Davis, Press Association Crime Correspondent'); ga('pacontentapi.set', 'dimension2', '3f3673fc-9a85-46e7-a90a-326cb935cb28'); ga('pacontentapi.set', 'dimension3', 'paservice:news,paservice:news:uk'); ga('pacontentapi.set', 'dimension6', 'story'); ga('pacontentapi.set', 'dimension7', 'composite'); ga('pacontentapi.set', 'dimension8', null); ga('pacontentapi.set', 'dimension9', null); ga('pacontentapi.send', 'pageview', { 'location': location.href, 'page': (location.pathname + location.search + location.hash), 'title': 'Family of Briton killed in the Gambia seek Boris Johnson\u2019s help over court case'});
Read Full Story