Yachting boss acquitted of crew's manslaughter
The director of a yachting management company has been acquitted of the manslaughter of four sailors who died when the Cheeki Rafiki yacht sank mid-Atlantic.
Douglas Innes, 43, of Southampton, Hampshire, briefly closed his eyes snd mouthed the words "thank you" as the jury, sitting at Winchester Crown Court, announced the not guilty verdicts.
The jury had been deliberating at the retrial for 23 hours and 25 minutes.
The yacht lost its keel as the crew were returning the 40ft yacht from Antigua to the UK in May 2014 when it got into trouble 1,000 miles from the United States.
Lost at sea were all four crew members - skipper Andrew Bridge, 22, from Farnham in Surrey; James Male, 22, from Southampton; Steve Warren, 52, and Paul Goslin, 56, both from Somerset.

The US Coastguard was criticised for calling off its search after two days but after protests from family and friends and intervention by the British government, the search was re-started and the boat found but without any sign of the four men.
Innes, and his company Stormforce Coaching Limited, is to be sentenced on May 11 after being convicted at the first trial of failing to operate the yacht in a safe manner contrary to section 100 Merchant Shipping Act.
Judge Douglas Field said "all options must remain open" with regard to sentencing.
The jury told the judge it was "deeply concerned" about a maritime regulation guidance note and hoped it would be reviewed and tightened to help improve safety.
Prosecutor Nigel Lickley QC told the court the yacht, named after a character in the Lion King, had an undetected fault with bolts holding the three tonne keel to the hull which then failed causing it to fall off during the bad weather during the voyage.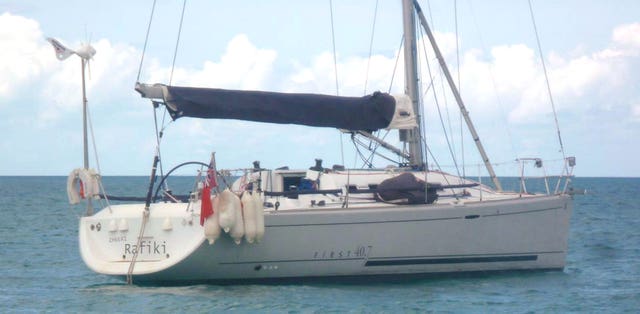 Mr Lickley said the yacht, which had grounded on two earlier occasions, had been "unsafe and unsound" because Innes had "neglected it" by not maintaining it or having it inspected for several years.
In contrast Innes told the court the Cheeki Rafiki had been regularly maintained and inspected with no evidence of damage to the keel.
He said the yacht was taken out of the water for nearly five months in early 2013 for the hull to be stripped back and repainted as part of its maintenance programme.
Innes said no fault with the keel or hull had been found and the yacht was scrubbed thoroughly prior to the its final journey.
No problems with the keel or hull were spotted and he had not been informed by the yacht's owners of damage caused during two groundings on two occasions, he added.
Read Full Story