Tom Daley: My gay rights campaign will continue in Russia
Olympic diver Tom Daley says he is prepared to take his gay rights campaign to Russia when he competes in next month's World Series - but suggested he may pare down his message amid a fear of reprisals.
The 23-year-old, who won the men's synchronised 10-metres platform title with Dan Goodfellow at this month's Commonwealth Games in Australia, was praised for his public plea for equality moments after taking the gold medal.
The father-to-be - married to Hollywood screenwriter Dustin Lance Black - used his media duties after winning his fourth Games title to implore the Commonwealth Games Federation to do more to pressurise those 37 out of 53 nations of the Commonwealth where homosexuality remains illegal.
A passionate post on his Instagram account, published following his endeavours on the diving board, was "liked" more than 170,000 times, bringing further spotlight on the issue.
Speaking to Nick Robinson on BBC's Marr on Sunday, the Plymothian said his activism would not stop in Russia.
But he hinted the campaigning may be contained to his performance at the pool, rather than physically speaking out, after being asked about his concerns of a backlash in a nation where homosexuality remains a problem for many.
He said: "I think the one thing that is the most powerful thing to do is go and compete and do the best I can, and just be who I am and compete at the highest level that I can.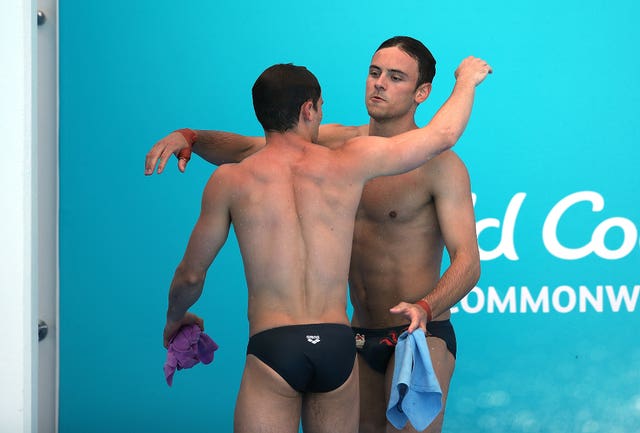 "Speaking out can only do so much, but for me going there competing is a message that i want to urge other LGBT people to go and compete in Russia - it doesn't matter about our sexual orientation."
Daley said the Instagram post was composed off-the-cuff while celebrating his medal win with his husband, himself a known equality campaigner.
Describing his discussions with LGBT activists who had been persecuted while "trying to organise a Pride event and getting thrown into prison for it, being beaten up in the streets", Daley said: "I was sitting there with a gold medal at the Commonwealth Games and I thought: 'How lucky am I, to be sitting here with my husband after just winning a competition and not being worried about any ramifications?'
"It struck me in such a way that I was mortified by it, and I just literally crafted a little sentence on my Instagram post - that was exactly what I was feeling in that moment."
(function(i,s,o,g,r,a,m){i['GoogleAnalyticsObject']=r;i[r]=i[r]||function(){ (i[r].q=i[r].q||[]).push(arguments)},i[r].l=1*new Date();a=s.createElement(o), m=s.getElementsByTagName(o)[0];a.async=1;a.src=g;m.parentNode.insertBefore(a,m) })(window,document,'script','//www.google-analytics.com/analytics.js','ga'); ga('create', 'UA-72310761-1', 'auto', {'name': 'pacontentapi'}); ga('pacontentapi.set', 'referrer', location.origin); ga('pacontentapi.set', 'dimension1', 'By Ryan Hooper, Press Association'); ga('pacontentapi.set', 'dimension2', '2229a62c-2e20-474c-8b73-462a16c40605'); ga('pacontentapi.set', 'dimension3', 'paservice:news,paservice:news:uk'); ga('pacontentapi.set', 'dimension6', 'story'); ga('pacontentapi.set', 'dimension7', 'composite'); ga('pacontentapi.set', 'dimension8', null); ga('pacontentapi.set', 'dimension9', null); ga('pacontentapi.send', 'pageview', { 'location': location.href, 'page': (location.pathname + location.search + location.hash), 'title': 'Tom Daley: My gay rights campaign will continue in Russia'});
Read Full Story