Murder accused cried 'what have I done?', court told
A fashion designer cried "what have I done?" after her nanny died in the bath, a court has heard.
Sabrina Kouider, 35, allegedly woke up partner Ouissem Medouni in the early hours of the morning after their French au pair stopped breathing.
Medouni, 40, told jurors he was "shocked" to find Sophie Lionnet in the bath wearing pink pyjamas with her eyes open.
He pulled her out of the water and tried to resuscitate her for an hour before concluding she was dead, the court heard.
Rather than alerting police, he put her body in a suitcase and Kouider came up with a plan to burn it in the garden behind a gazebo, Medouni said.
After the charred remains were discovered by firefighters, Medouni told jurors his partner had asked him to take the blame.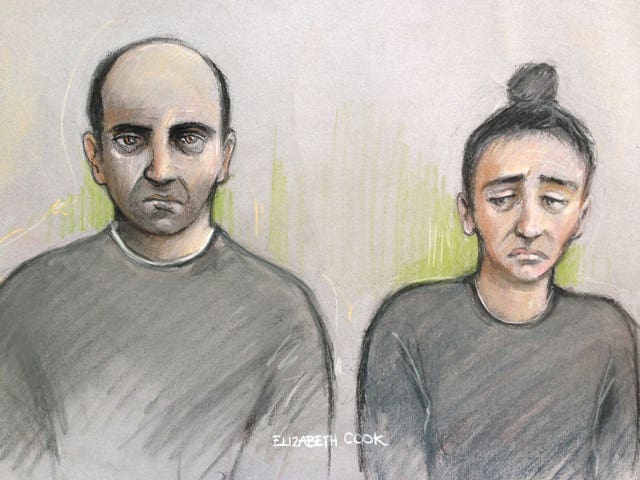 The financial analyst initially lied that Miss Lionnet died by accident as he tried to extract information from her because he "wanted to protect the family", he said.
The 21-year-old au pair died on the night the couple filmed her confessing to outlandish claims involving Kouider's ex-boyfriend, Mark Walton, the Old Bailey heard.
Describing events at the family home in Wimbledon, Medouni said: "Sabrina woke me up around 1.30am. She said Sophie was not breathing.
"She was saying, 'what have I done, what have I done?' I was shocked to see her like that."
Medouni said he told her to call 999 but she did not.
On why he put the body into a suitcase, he said: "I was in a state of mind where I did not know what to do because it was too late to call the police."
He described how Kouider came up with the plan to dispose of the body over the next two days.
"I said to her, 'can you pinch me if this is real, what happened really happened?'
"I remember it was the next morning, she was lying on my bed and she said, 'we will burn her'.
"I said, 'what, are you crazy? That's crazy. I will never do that, never'."
Medouni said he suggested burying Miss Lionnet in the garden, but Kouider wanted to disguise a pyre behind a gazebo.
The defendant said Kouider ordered him to buy the tent from B&Q but he did not.
Meanwhile, she took a shower saying it was to "clean her sin", jurors heard.
On September 20 last year, Kouider took Miss Lionnet's body outside in the suitcase and they burned it near the house, the court heard.
Medouni said they cooked chicken on a barbecue nearby because of "the smell".
When firefighters uncovered the charred remains, Medouni claimed it was the carcass of a sheep, which he told jurors was "stupid".
He said he explained what happened because he wanted to "protect the family and myself".
Orlando Pownall QC, defending, said: "Mr Medouni, you have said a number of harsh things about Ms Kouider.
"What are your present feelings for her?"
Medouni replied: "She destroyed my life. I have my part as well. I could have stopped her. I could have done things and Sophie would have been alive.
"So I hate myself for that, for letting the violence grow without calling the police or go to emergency services because I had many occasions to do that."
Mr Pownall recalled an incident in court earlier this week when Kouider called Medouni a "murderer" from the dock.
Medouni denied the accusation, adding: "I never, ever, ever slapped, beat a woman. I'm not violent."
The couple have admitted perverting the course of justice but deny murder.
(function(i,s,o,g,r,a,m){i['GoogleAnalyticsObject']=r;i[r]=i[r]||function(){ (i[r].q=i[r].q||[]).push(arguments)},i[r].l=1*new Date();a=s.createElement(o), m=s.getElementsByTagName(o)[0];a.async=1;a.src=g;m.parentNode.insertBefore(a,m) })(window,document,'script','//www.google-analytics.com/analytics.js','ga'); ga('create', 'UA-72310761-1', 'auto', {'name': 'pacontentapi'}); ga('pacontentapi.set', 'referrer', location.origin); ga('pacontentapi.set', 'dimension1', 'By Emily Pennink, Press Association Old Bailey Correspondent'); ga('pacontentapi.set', 'dimension2', 'e8cb223c-3a6c-4efe-892f-3d020c782a71'); ga('pacontentapi.set', 'dimension3', 'paservice:news,paservice:news:uk'); ga('pacontentapi.set', 'dimension6', 'story'); ga('pacontentapi.set', 'dimension7', 'composite'); ga('pacontentapi.set', 'dimension8', null); ga('pacontentapi.set', 'dimension9', null); ga('pacontentapi.send', 'pageview', { 'location': location.href, 'page': (location.pathname + location.search + location.hash), 'title': 'Murder accused cried \u2018what have I done?\u2019, court told'});
Read Full Story