'Harsh jolt' for workplace pension savers as minimum contributions rise
The next stage in a "quiet pensions revolution" has got under way as the minimum amounts that workplace savers can put into their retirement pots have been increased.
Minimum pension contribution rates under automatic enrolment have been raised as part of efforts to help people build decent savings pots for their later years.
Some experts suggested the hike could feel like a "harsh jolt" when people receive their pay packets.
The rates have increased to a combined 5% of qualifying earnings, with a minimum of 2% from the employer and the remaining 3% from staff.
Previously, the minimum contribution rate was set at 2%, comprising 1% from staff and 1% from their employers.
In April 2019, the rate will increase again, to 8%, with a minimum of 3% from the employer, leaving a 5% minimum staff contribution.
Rebecca Goldring, a tax manager at accounting firm Blick Rothenberg said: "For many this increase will feel like a harsh jolt.
"The Bank of England forecasts wage growth this year and with a rise in the income tax threshold this should boost spending and put more cash in workers' pockets.
"However, the increase in monthly auto-enrolment pension contributions may result in a decrease in take home pay for some workers."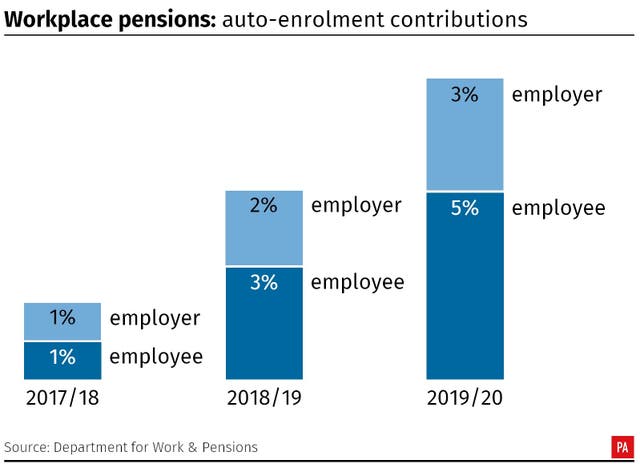 She continued: "Those who do decide to opt out will however unfortunately forfeit the employer contributions, tax relief from the Government and any increase in the value of their pension that could be built up through investment growth over their working life."
But research from workplace pension provider Now: Pensions suggests many people will continue to save into their workplace pension as contribution rates rise.
So far, around nine in 10 workers have remained in their pension rather than opting out.
More than four in five (84%) auto-enrolled savers it surveyed said they will embrace this month's increase and continue to save.
Of those workplace pension savers surveyed, nearly a quarter (23%) felt their employer's contributions into their pension are too valuable to lose out on.
More than half (51%) would have liked the opportunity to save into their workplace pension earlier.
Troy Clutterbuck, interim chief executive at Now: Pensions said: "Pension saving is fast becoming the new normal and the vast majority are happy to pay in a little bit more each month, safe in the knowledge their employer will be doing the same."
According to calculations from Aviva, savers on average earnings could see their pension pots quadruple as auto-enrolment cranks up.
Aviva said that, based on various assumptions, a 22-year-old saving the previous minimum of 2% could look forward to a pension fund of £40,000 by the time they retire.
But by saving the higher 8% which kicks in on April 2019, this projected outcome rises to £160,000.
Alistair McQueen, head of savings and retirement at Aviva said: "Auto-enrolment has been phenomenally successful at introducing more than nine million people and around a million employers to retirement saving.
"This is the next phase of the quiet revolution in pensions that has been taking place over the past five years. For people to achieve the kind of retirement they want then contribution levels have to be higher, and today marks the first step towards that.
"By saving into a workplace pension, employees are benefiting from their own contributions while their employer and the government are also paying in. To continue to benefit, all they have to do is stay in their pension scheme."
Minister for Pensions and Financial Inclusion, Guy Opperman, said this week: "One million employers have played a crucial role by complying with their automatic enrolment duties, helping us get more than nine million people into a workplace pension, so that they can prepare for a more financially secure retirement.
"This week, we mark the next stage in boosting the retirement incomes of workers across the nation."
Read Full Story